Solo Travel Disadvantages for Single Seniors
We were the independent travelers in some countries, and we were traveling in organized groups in most countries (as of today, we visited 71 countries). Therefore, we feel that we have enough personal experience and authority to compare both types of traveling abroad.
There are numerous plusses and minuses in both travel styles, and either option can be great for different categories of people. For single senior travelers disadvantages of independent travel overweight advantages.
If you want to travel independently,
you have to deal with a huge amount
of organization and preparation.
First, you have to decide where you want to go. Probably all of us have a "bucket" list of countries we want to visit. Of course, you have to think about the time of the year that is best for visiting the country of your choice.
After you chose the country, you want to get more details about it. To do the research, you drive to a bookstore or a library. Or you bury yourself in the websites on the Internet.
It is time to find the best airfare. If you are good with the computer, you can start looking at the prices. Sometimes it is better to buy "open jaws" tickets. For example, if you want to go to Ireland, you may fly into Dublin and go back from Shannon. This way you do not have to go to the same city twice.
After you bought your ticket, it's time to get back to a computer to look for the hotels. You have to make sure that the hotels are conveniently located and close to tourist attractions.
After you line up the hotels, you have to take care of transporting yourself from place to place. By the way, it was surprisingly easy to do in Japan (after we bought the Japan Rail Pass).
Transportation abroad can be tricky
Even if many train workers do not speak English, they were able to help me by pointing to the schedule or to the right platform to board a train. However, getting yourself from place to place is always a hassle.
Of course, you can rent a car, but we prefer not to drive in foreign countries. We did it a few times, but we try not to do it again. Even if we never ware in a car accident, we think that one can be lucky just so many times.
And do not forget the tolls. Once, when we drove from Sweden to Oslo, Norway, before entering the city, we were stopped at the toll booth. We realized that we did not change money yet (it was before euros). So we had to turn around and stop at some exchange place to get the Norwegian kroner.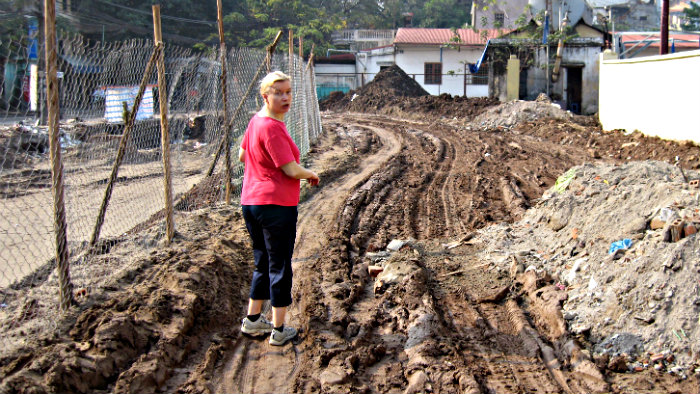 As this picture shows, it's not fun to be lost on the streets in another country. I got lost trying to find my way to the hotel.
In another city, in Scandinavia, we paid the toll before entering the old town but soon lost our way, circled the winding streets for an hour or so and suddenly found ourselves in front of the same toll booth. We had to pay the expensive fee twice. So if you decide to visit the old city by car, don't! Park outside of city limit and use public transportation.
And how about one-way streets in old town centers? In Amsterdam I drove in circles for hours, trying to find a bed-and-breakfast place. Once I found it, I did not touch my car until it was time to leave Amsterdam.
One way streets were a big problem for us in Bergen, Norway. The town is quite small, but one-way streets made looking for a bed-and-breakfast very time-consuming. You cannot find instructions in the tour books on how to find a particular house without going in circles.
As you can see, solo travel disadvantages for single seniors are quite numerous, but if you are adventures, you will conquer them all and have lots of stories to tell.