We were both born and raised in Russia. Therefore, our description of Russian food is based on our memories, starting from childhood, and on the impressions of our numerous trips to Russia after we emigrated to the United States.
Russian food is diverse. Throughout the centuries, it was influenced by cuisines of the Caucasus Mountains, Asia, and Europe.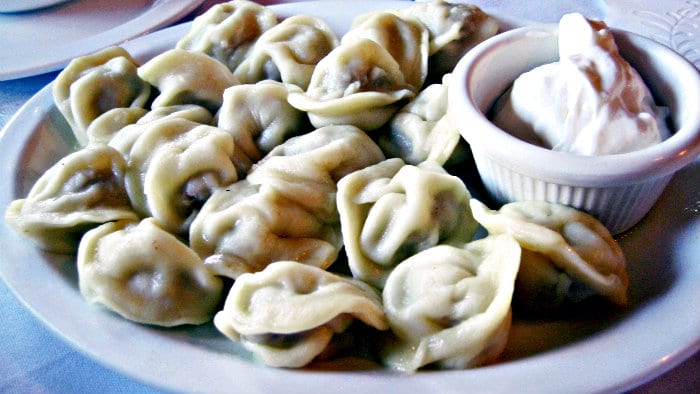 As much as we like to eat traditional Russian food, I find it too labor-intensive and time-consuming to prepare. Take the pelmeni for example. They are small meat dumplings filled with a mix of ground pork and beef, onions and garlic.
Usually, a whole family gathers together and works on these tasty creations. They make a lot of them, drop the needed amount in the boiling water and cook for a few minutes. The rest is stored in the freezer for later use. Russians eat pelmeni with sour cream, butter, vinegar or mustard.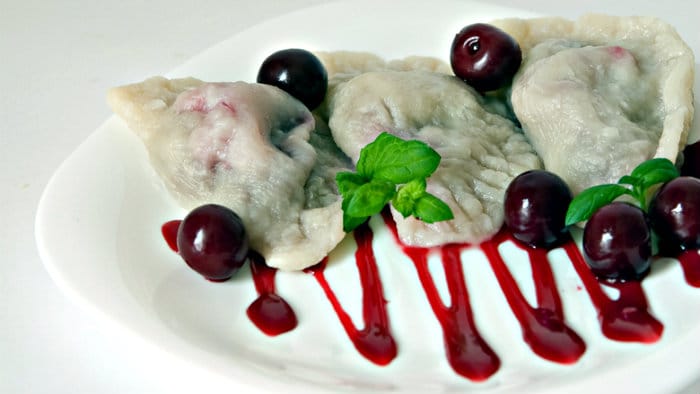 Similar to pelmeni is vareniki, but the fillings are meatless: potatoes, mushrooms, even sour cherries (everybody's favorite). My grandma had a small summer house with a few cherry trees in the garden, not far from the city where I lived. I stayed with her for the whole summer.
My parents visited us almost every weekend. Together, we made vareniki with our own cherries. Eating these delicious dumplings with sour cream always felt like a special occasion.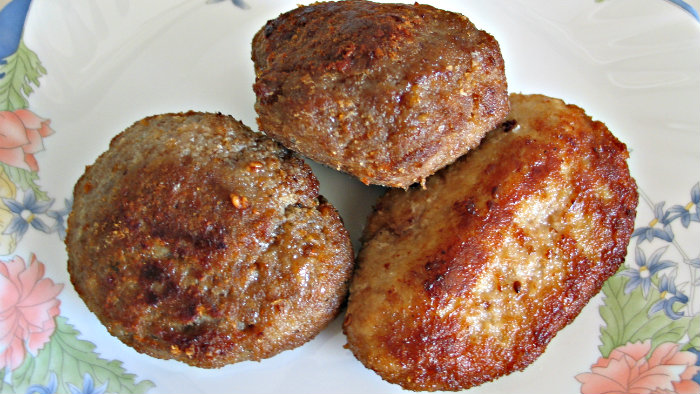 Kotlety is ground beef patties. Please don't confuse them with burgers. A cook mixes ground beef and pork, chopped onions, garlic, and white bread soaked in milk. Kotlety is always nicely browned outside and juicy inside. Usually, they are so good, that people do not add any condiments as you do with hamburgers.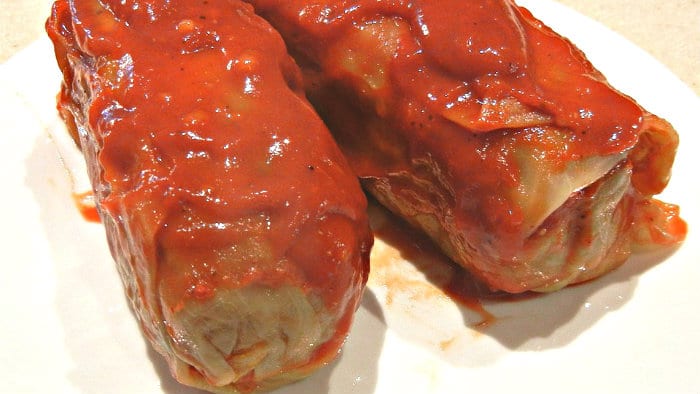 Golubtsy (called stuffed cabbage or cabbage rolls) are made with separated cabbage leaves. The leaves are softened by gently blanching them in hot water. Then they are wrapped tightly around the stuffing of ground beef, rice, onions. The prepared rolls are placed in a pot with tomato sauce and slowly cooked on the low heat. These cabbage rolls are traditionally served with the sour cream.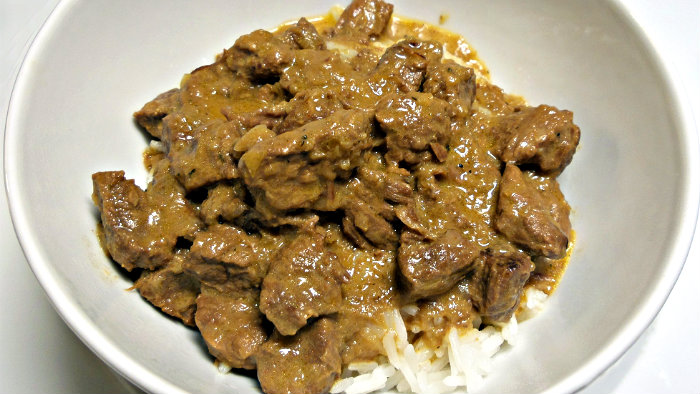 Beef Stroganoff is well known around the world. This meal has many variations. Most of them include sautéed pieces of beef, mushrooms, onions, beef broth, and sour cream.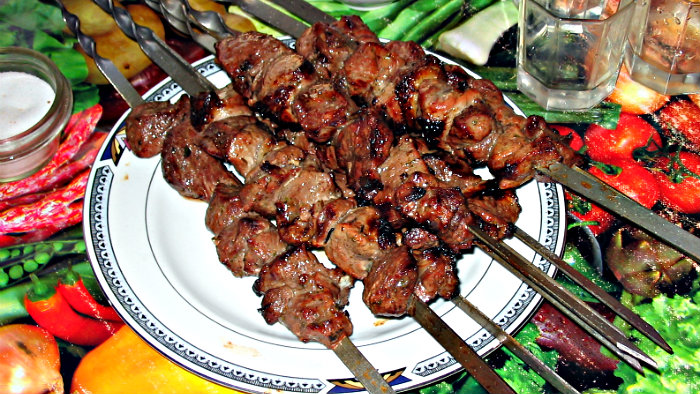 Almost every picnic outdoors includes shashlik (shish kebab) prepared on the open fire. Typically, the preparation of this meal is done by men. They put the marinated lamb or pork on skewers, make a campfire, monitor the degree of readiness.
It is women's job to prepare side dishes: fresh and pickled vegetables and fresh herbs.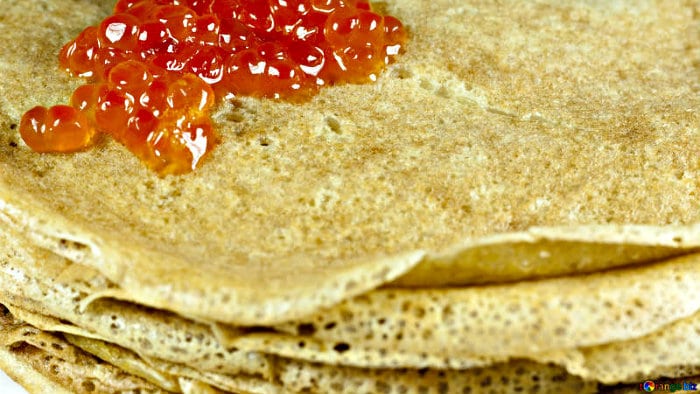 Blini was our weekend treat. My mother made them for Sunday breakfast. Blini are thin pancakes, like crepes. They can be eaten with many fillings, such as sour cream, smoked salmon, caviar, marinated herring, minced meat with fried onions, condensed milk, jam, honey.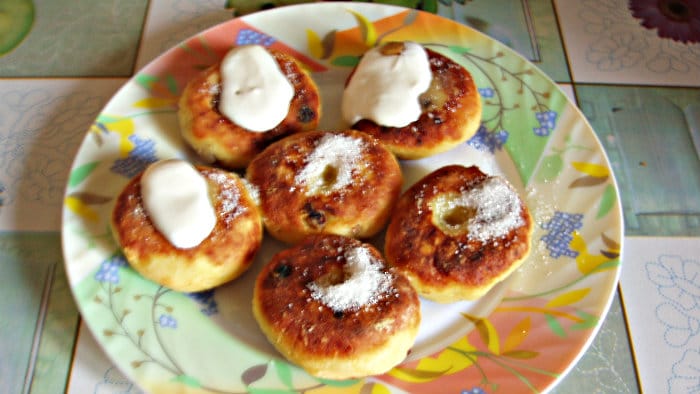 Another favorite Russian food for breakfast is syrniki – patties made of tvorog (farmer's cheese), eggs, and flour, and fried in the pan. We ate them with a dollop of sour cream.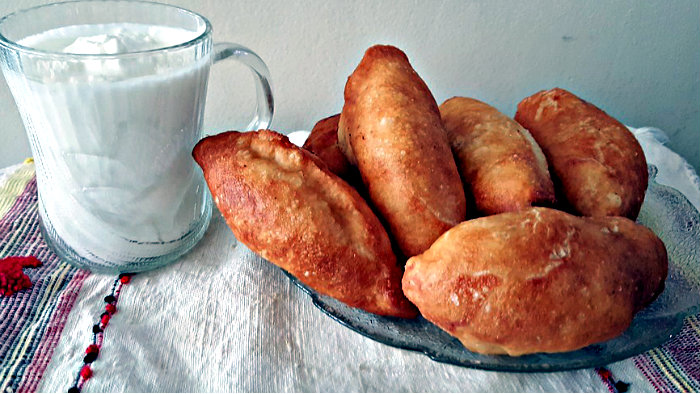 Pirozhki – deep fried or oven baked pastries. The most common filling is ground beef with onions. Other mixtures can be potatoes and fried onions, green onions and hard-boiled eggs, sautéed mushrooms and onions, cooked rice with onions. Some people prefer sweet pirozhki with fruit jam but I always grab the savory ones.
Typical Russian lunch and dinner include soup. From many varieties of this meal, we chose to describe just a few of the most popular types of soup.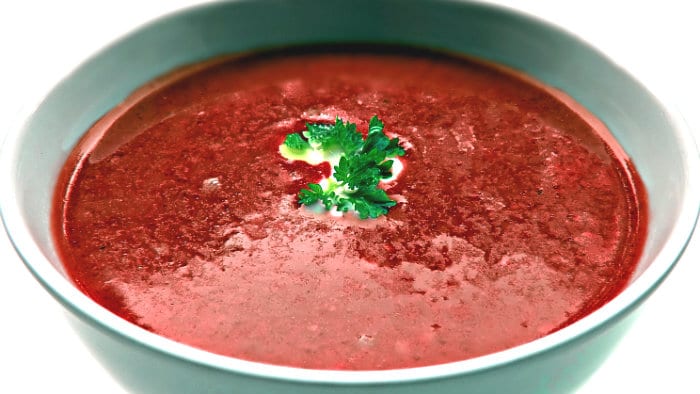 The best known is borsch – a hearty soup with beets which give it such a beautiful color. I hardly ever make borsch – it requires a lot of work and has more ingredients than I want to deal with.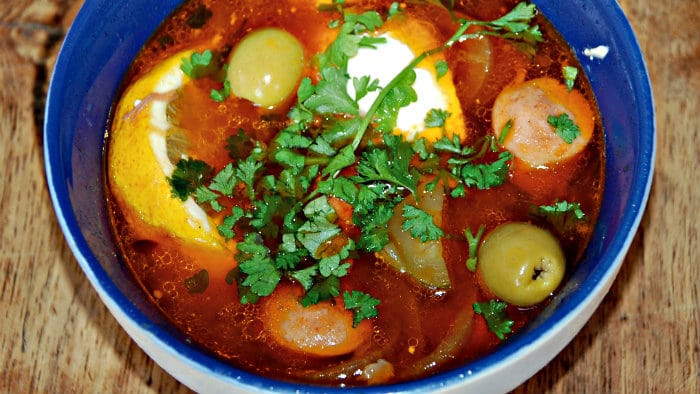 Solyanka is another great Russian soup. It is thick, spicy, sour. Solyanka is made with a mix of fresh and cured meats (beef and pork), onions, celery, tomatoes, dill pickles, olives.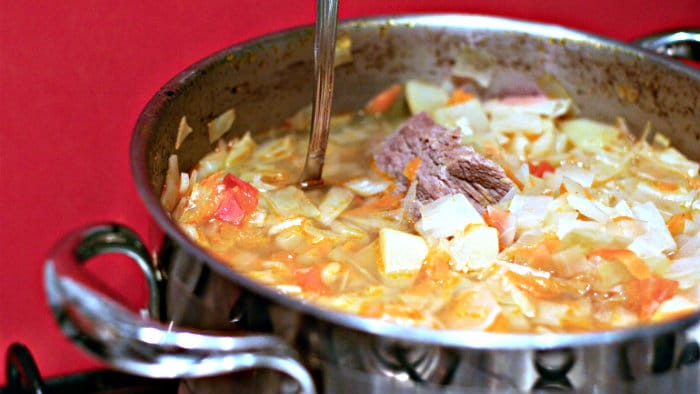 Shchi is a cabbage soup with onions, carrots, and with or without potatoes. You can use fresh cabbage or homemade sauerkraut.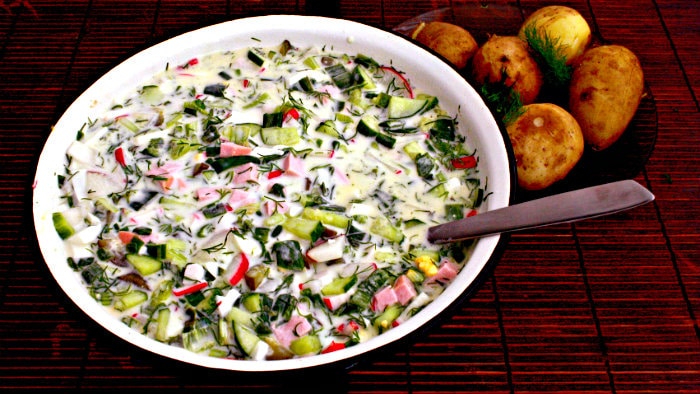 After the long cold winters, the Russians switch to cold soups in summer. The most popular is okroshka, which is like a liquid salad. First, the cook chops hard boiled eggs, fresh cucumbers, radishes, green onions, dill, parsley, sometimes bologna. Then these dry ingredients are ladled into the individual bowls. After that, kvas is poured over the vegetables, and sour cream is spooned on top.
Kvas is a traditional Slavic (not just Russian) beverage made from rye bread. We love drinking it by itself. It is healthy and tastes better than soda pop.
All the above soups go well with a dollop of sour cream because it breaks the saltiness and adds a rich, creamy flavor to the dish.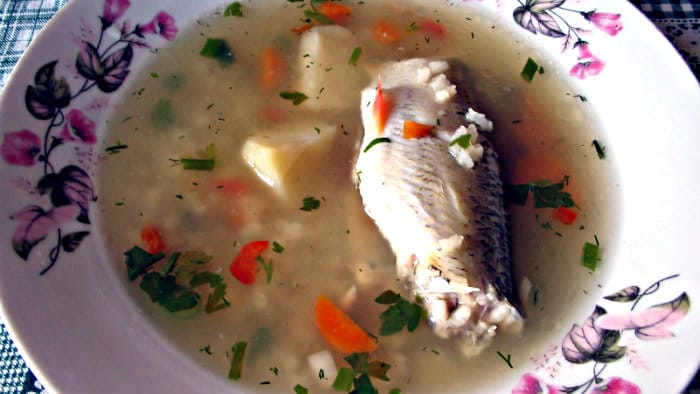 Ukha is another traditional soup beloved by all Russians. It is a fish soup with clear broth. The fishermen like to make ukha by the river or lake where they were fishing.
They make a fire, put a pot with water on the spit, add onions, potatoes, bay leaf, salt, and freshly caught fish.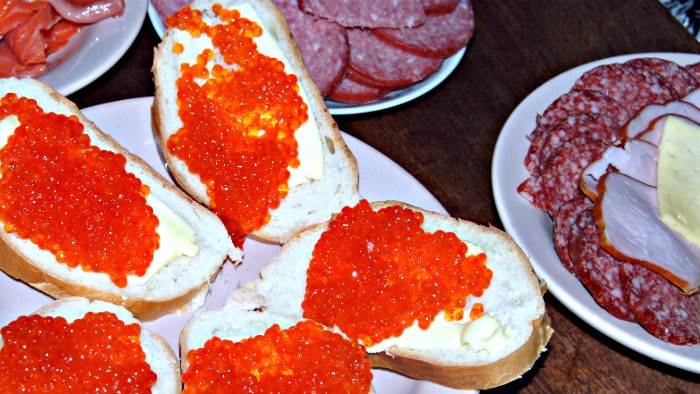 Zakuski is the name for the Russian hors-d'oeuvres. Among different kinds of Russian hors-d'oeuvres, you can find caviar, salmon eggs, smoked fish, pickled herring with onion rings and a bit of vegetable oil.
Pickled vegetables are always present: green cucumbers, red tomatoes, brown mushrooms, pinkish cloves of garlic. Just the color of the pickled vegetables creates a festive atmosphere. Add to these items a few kinds of cheeses, cold cuts, – the list can go on and on.
Zakuski can make a full meal because every hostess prepares a large variety of them for holiday gatherings. Zakuski are always served the family style and are brought to the table all at once.
Depending on the significance of the event, zakuski may include some elaborate dishes which have so many ingredients and calories that you can call them "main dishes."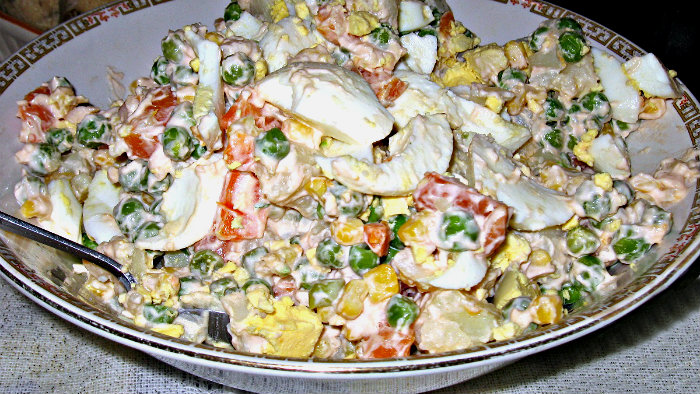 One of these elaborate dishes is everybody's favorite Olivier salad. The ingredients are boiled potatoes, boiled carrots, hard-boiled eggs, pickles, meat, canned peas, and a generous amount of mayonnaise.
Vinegret is a salad prepared with boiled beets, potatoes, carrots, pickles, onions, sauerkraut, sunflower oil, and vinegar.
By the time when you cannot eat anymore, the lady of the house announces that now she is bringing the main course. "And leave the room for dessert" she kindly reminds her overstuffed guests.
No wonder the Russians spend several hours at the table when they celebrate some event or holiday! And no wonder that during this time, vodka, cognac, and wine are sometimes consumed in excessive amounts.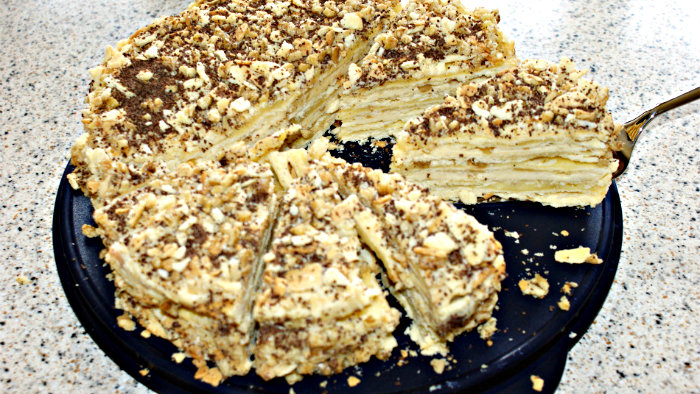 After guests finish eating hors-d'oeuvres, soup, and main dishes, the hosts clean the table, bring teapot and cups, and covers the table with desserts. Hot tea is served with several choices of jam made with raspberries, strawberries, black currants, gooseberries. The guests serve the preserves by themselves. They put the preserves in the tiny individual saucers.
The possible assortment of desserts may include homemade cake or pie, chocolate, and homemade cookies.
Book your flight to Russia
Best time to visit Russia
Russian winters are unpredictable. They can be very cold or mild, with little snow and freezing rains. The best time to travel to Russia – May through September.
Check other exciting countries
we recommend visiting in 2021