How to find cheap massages
I love all kinds of massage: Shiatsu, Swedish, deep tissue, Thai. I think of myself as a massage connoisseur, not just an "addict." To save money, I am always on a lookout for less expensive treatment. After many years of traveling around the world, I learned how to find cheap massages.
Usually, the price range in the developed countries is between $60 and $90 per hour-long treatment. If you go to a fancy spa, the cost is even higher – $100 or more. However, it is still possible to find bargains. Some Asian parlors in Los Angeles or Foot Spa salons in South Florida charge from $30 per hour.
Attention travelers! The best deals on massages are in Asian countries. I am not shy to admit having a huge "collection" of massage experiences in Japan, Thailand, Cambodia, Vietnam, India, Nepal, Burma, China, Peru, many other countries and cities in the USA.
Here are some of my experiences
in China, Cambodia, Thailand, India, Nepal, Australia, and Russia.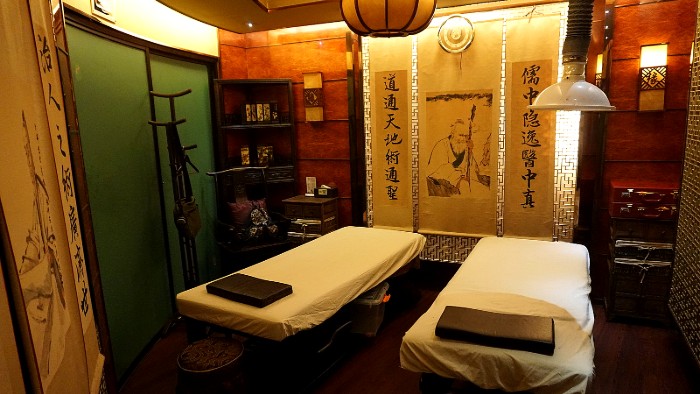 China is a country where massage is used as one of the most essential treatments to keep your body healthy without using any medications.
The Chinese are so dedicated to massages that, if you go to a barbershop for a haircut, you will get a fantastic scalp massage for free. When I watched my husband getting a haircut in Shanghai, I was envious observing how the female hairdresser was thoroughly massaging his head, neck, and shoulders.
His haircut was less than five dollars, but the whole treatment lasted for almost an hour. Should I ask them to cut my bangs? – I thought. – Would they give me a rubdown as well?
Everything was very cheap in China when we went there for the first time in 2003. The bicycle lanes were much wider than the car lanes in Beijing. The prices in grocery stores were very inexpensive. Even our trip was purchased for a ridiculously low price. It was reasonable to expect that massages will be affordable for us, budget travelers.
In one of the cities, instead of looking for a massage parlor, we checked the cost of treatment at the front desk of our fancy hotel. The price was more than agreeable. At the scheduled time, a shy young woman knocked on our door. She brought a basin, packets of tea, oils.
Not being able to say a word in English, she gestured to me to put my feet in the basin with warm water in which several tea bags were steeping. While my feet soaked for several minutes in the pleasantly smelling water, she climbed on the bed behind me and massaged my neck and shoulders. Then she dried my feet and gave me a heavenly treatment starting from my toes and ending at the top of my head. The price? Less than $10, including tip.
In 2013, China was not a very cheap country anymore. Each main road in Beijing had at least 6 lanes for cars and only one or two for bicycles. Our trip wasn't dirt cheap either – it cost twice more than our first trip 10 years before.
When I asked our guide, Mark, to point us in the direction of a nearby massage parlor, he asked the whole group if other people would like to have a massage. About ten of us were a game. Mark said that he will even include a free ride on our tour bus. Hearing this, a few more people decided to join our "aches and pains" group.
After the city tour, the bus took us to a massage parlor, which was definitely serving foreign tourists – all the clients that we saw were Caucasian. The place was nice, but the experience was not memorable. The only consolation was the still reasonable price – about $25, which I am sure included "free" bus and commission for Mark.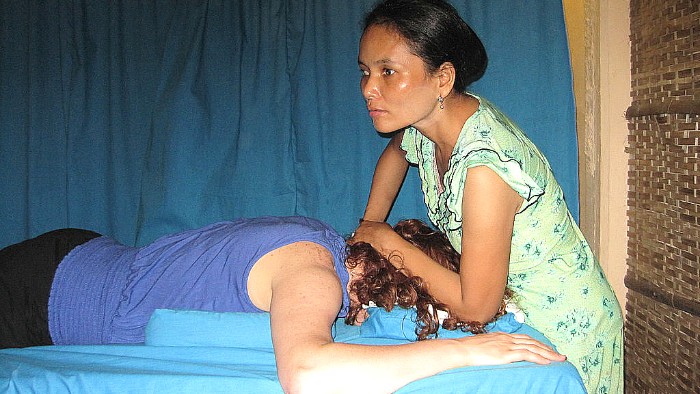 After a long and tiring tour of Angkor Wat, the majority of our group decided to go shopping (favorite past-time for a typical American tourist). Not big fans of shopping, we decided to get a rubdown before returning to our hotel.
A few women, who also did not want to shop, followed us. The owner of the massage parlor punched a few numbers on his calculator (he did not speak English). He explained by gestures that the regular price is $12 per person per hour, but for us, it will be $6. We did not bargain.
The place was deserted, with no customers and just one sleepy masseuse. In five minutes, all seven of us had seven skillful massage therapists who relieved us of all the pains and aches we developed after walking in Angkor Wat for many hours. Probably, the owner called other massage parlors and asked for help.
Also, in Cambodia, this time in Phnom Penh, I asked a local guide where we could have an inexpensive massage close to the hotel. 
The place our guide pointed to was a massage school for the blind. There, we paid the same magic price – $6 for an hour-long, fantastic massage. Since all therapists were blind, each of them used a timer. After a soft ding, they moved to another part of the customer's body.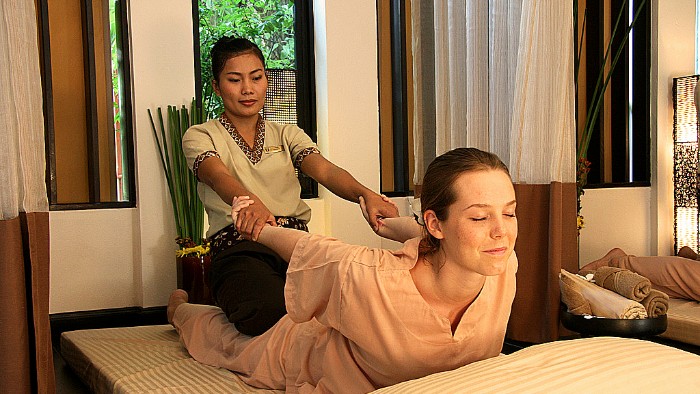 On our first trip to Bangkok, we stayed in Royal Orchid Sheraton. This 5-star hotel had an elegant spa where massage was over $100 per hour. I decided to skip it. Walking on the streets surrounding the hotel, we noticed lots of small massage parlors. It took us less than five minutes to find a clean place that charged $5 per hour!
The next day, after visiting the Royal Palace, we did not return to the hotel by our tour bus. Instead, we chose to spend the afternoon in the old center and then go back to the hotel by ferry. While we were resting in the shade, a French tourist asked us if we knew where to find the famous massage school located nearby.
Lucky for him, I already had the address and directions to that school. Together, we quickly found that place. The price was slightly higher – $7.50, which of course, was still a great bargain.
They even asked us if we wanted to "splurge" on the clean sheets. It would cost us an extra 50 cents. I do not know about that French guy, but two of us certainly "splurged."
During our second trip to Thailand, we stayed in Bangkok for four days. Every day we indulged in the massages.
The best treatment we got was in Chiang Mai (Northern Thailand). Our group stayed in an upscale hotel, but the massage parlor in the basement was surprisingly cheap. Two men from our group even scheduled massages done by two women (don't worry, there was nothing indecent about such arrangement – they were a gay couple).
In Chiang Mai, you could find a massage parlor or two in every block. It looked like these services were the main reason tourists visited that area. You could have Thai massage wearing cute cotton pajamas, or you could choose a massage with oil. We preferred to have a Thai massage without oil.  We did not want to feel greasy in that humid climate.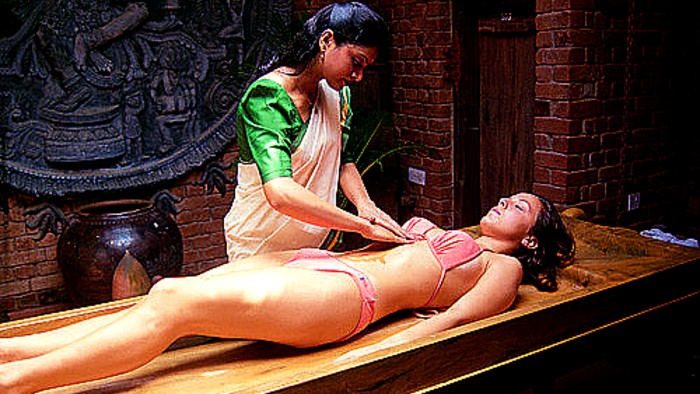 One of the highlights of touring India was a visit to Khajuraho. The tour through the ancient temples with the famous Kamasutra sculptures lasted several hours.
Exhausted after walking under the hot Indian sun and through the armies of relentless beggars, our group was taken back to the hotel located out of city limits.
To leave our cool comfortable 4-star hotel and go back to the city and look for a cheap massage? No way! We checked the prices at the hotel spa. Surprisingly, they offered a very inexpensive massage.
The lesson: don't presume that if you are staying in an expensive hotel, the massages will be costly too.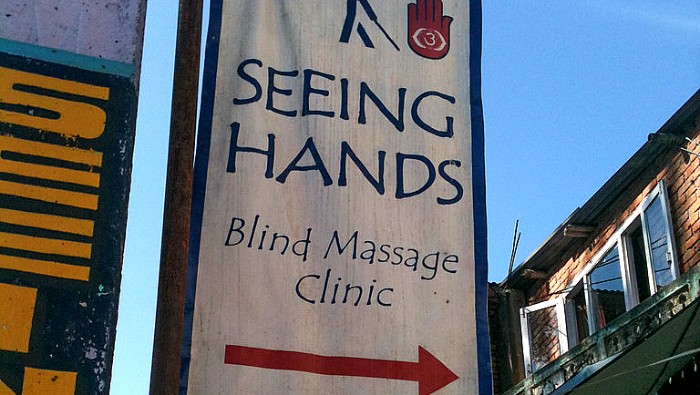 We stayed in many great hotels during the trip to India and Nepal. But the hotel In Katmandu was, probably, one of the best! We would never splurge on the room at this hotel on our own, but a group tour to India and Nepal allowed us to stay at the incredible 5-star hotels (one of the advantages of traveling in organized groups with a guide).
Since this hotel was costly, the price for massage was through the roof! To save money, we stepped out of the hotel grounds. Within 5 minutes, we found a massage parlor. We had a fantastic Ayurveda massage with fragrant oil and experienced therapists. The price? About $10 for one hour.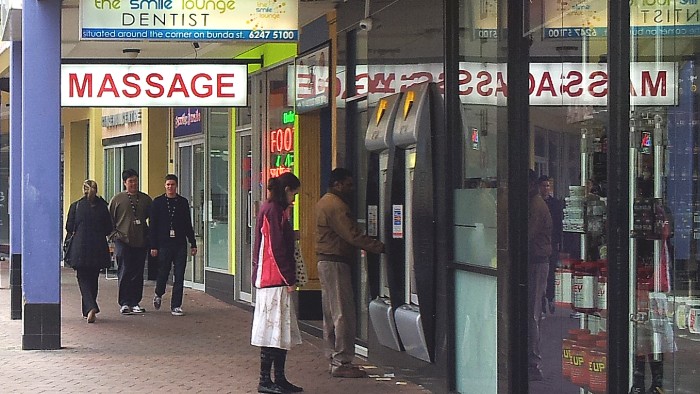 I did not plan to have a massage in Australia – I was sure it had to be expensive. I was wrong.
In Cairns, we stayed in a hotel which was across the street from the Night Market. This market was a bustling and fun place inside the large air-conditioned building. The food court had stalls with international food. I was pleasantly surprised to find a section where Chinese women were giving massages for an incredibly low price.
None of these masseuses spoke English. First, they placed us in comfortable chairs and soaked our feet in a basin with soapy water (they used a fresh plastic liner for each customer). After that, we were led to massage tables. Despite the noise from the passing shoppers, it was easy for me to get into "zone" and completely give myself to the experienced hands.
Suddenly, someone very close to me started speaking in perfect Australian English. It took me a couple of seconds to realize that the voice was coming from the floor! I looked into the hole of the headrest and saw the handsome face of a young Chinese man. He was squatting right under my table!
He started offering "special" massage services. Not willing to spend more money or time, I refused. The man politely thanked me and crawled under the next table.
Completely awake now, I enjoyed listening to his sales pitches. I felt like I got two for the price of one – a great massage and entertainment!
Massages in Russia: from bad to fantastic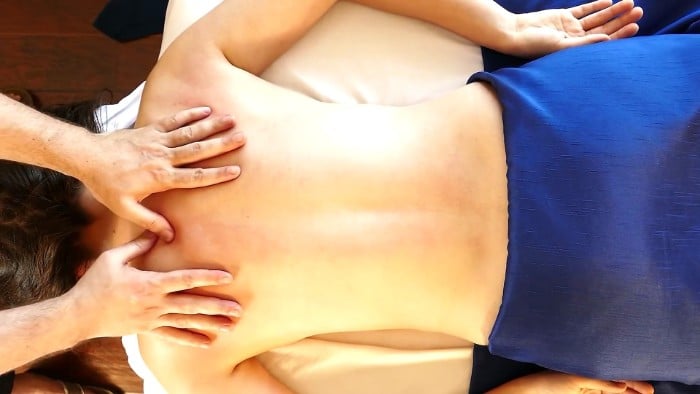 In 2009, we visited our families in Russia. To add to my "collection," I decided to try a massage in Moscow. My sister (who never had this heavenly experience) was sure that the local health center will provide therapeutic services. Why not check it out?
The health center occupied a large two-story building. At the entrance, all visitors had to put plastic covers (bahili) over their shoes. We had to wear something similar (but made out of cloth) in Kyoto, Japan, in the former imperial palace. There, all tourists and guides had to wear shoe coverings to protect the precious centuries-old wooden floors.
Leaving my parka in the cloakroom, I shuffled to the second floor and found a massage room. Since it was a "medical facility," I was not surprised that instead of treatment, the therapist started examining my spine.
She managed to find lots of problems with my back: widow's hump (I don't have it), my questionable spine (it is still straight and flexible), out-of-balance shoulders (whatever she meant by that). The list of my "body problems" went on and on. None of my previous yearly physicals mentioned such issues.
The therapist sternly told me that to take care of my "problems," I have to come to the health center at least two times per week and for at least three months. I politely agreed to follow everything she recommended – we were going home to the US next week anyway.
Satisfied with my eagerness to sign up for the long-term treatment, the therapist started working on my body. I shouldn't be so cavalier – this woman had arms of a wrestler! Before that day, I always enjoyed a deep-tissue massage, even Thai massage (they walk on your back in Thailand!), but I didn't expect such brutal strength in this small Russian woman.
Did I like this massage experience? Let's just say that it would not take the first place in my collection.
After half an hour or so, the therapist probably got tired and continued hurting me with less enthusiasm. I was ready to relax and finally get in the "zone." No such luck. The therapist's friend came into the room, and two women started chatting.
I got an earful of their problems: drinking husband of one, good worker of the other, kids who are excellent students and kids who are lazy, the high cost of living, the need to repair "dacha" (summer house), the high cost of materials, and the difficulty of dealing with contractors.
"Go to the receptionist and schedule your next appointment in two days," ordered the massage therapist as I crawled out of that "torture chamber."
My second experience with Russian massages was entirely different. We housesat for friends who left for a month-long vacation. It was a great deal – a free apartment in the center of Moscow!
Before leaving, the wife told us about her masseur, who was coming to her apartment on a regular schedule. "Call him if you are interested," she said. Are you kidding? Of course, I am!
The man was a former soccer player for the Russian National team. He was still young, but already too old to play for a major club.
He gave us several fantastic massages on the kitchen table. After each treatment, we felt drained but thoroughly relaxed. What a great bonus to the free accommodation! I still remember what a bargain it was – $8 per person!
***
 Massage therapy is the most enjoyable way to take care of your body. Unfortunately, many people consider massage treatments a luxury because of the high cost. However, as you can see from my personal experiences, anyone can gain knowledge on how to find cheap massages.