Why I travel without checked luggage?
These are the reasons why I travel only with a small carry-on and a backpack; sometimes I have just a backpack:
I try to save money. International airlines allow passengers to check one or two suitcases for free. But to catch the international flight, very often I have to use domestic carriers.
I hate carrying heavy suitcases. On a group tour, travelers get help with the luggage from the bus driver, porters at hotels, etc. But who will help you to carry a heavy suitcase from the house to the car, to the airport, to the check-in counter, etc.?
I don't like wasting my precious vacation time on organizing stuff. Having too many things – clothes, shoes, books, cosmetics – makes people spend a lot of time in their hotel rooms organizing. On my trips, I met many well-dressed women who were changing their outfits a few times a day. It means, they were always busy choosing what to wear and spending a lot of time packing and unpacking. I prefer to spend my free time going for a walk and observing local life. Even if I am tired, it is better to sit on a bench and watch the locals pass by, than to stay in the hotel room, sorting clothes.
Sometimes, the checked luggage gets lost. In all our travels we had lost our luggage only three times, but it was more than enough for us.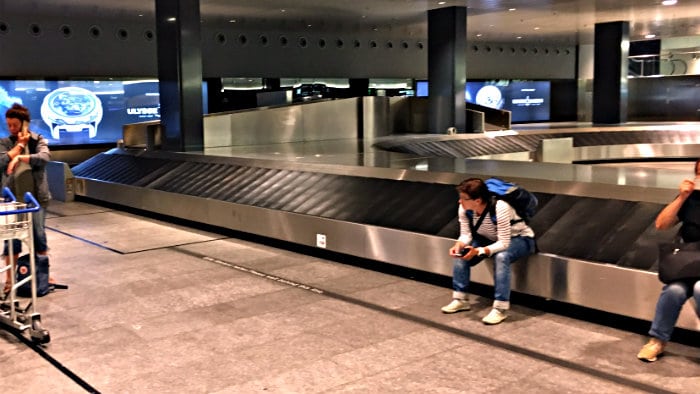 The most important reason why I travel without checked luggage – it can get lost. According to the domestic airline's statistics, only 1 percent of checked bags are lost.
However, if you try to start a conversation in a company about the lost luggage, you'll be surprised how many people experienced this inconvenience.
What happens to these lost belongings? Some of them are eventually found and returned to the owners. Some are never recovered. The rest is sold by the airlines to the unique store, the Unclaimed Baggage Center in Scottsboro, Alabama.
I visited this store two times when we were driving through that area. Both times we spend several hours going through large buildings filled to the brim with very inexpensive things. It looked like a very well organized huge garage sale.
Many items were brand new. All the clothing was dry cleaned. Everything was sanitized and good to go. This is the store, where you never know what you'll find. For us, it was great entertainment.
Three instances when my luggage was lost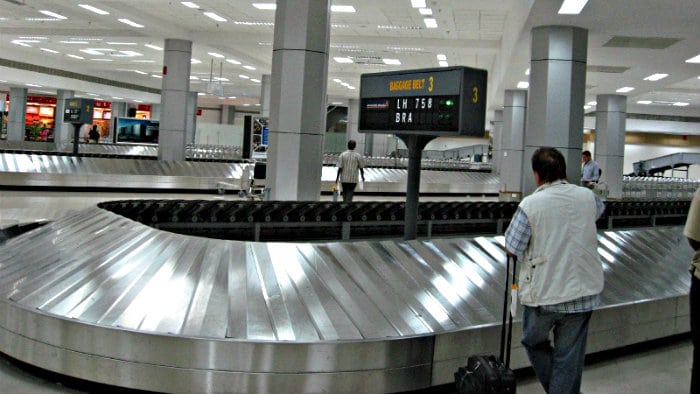 Before our first trip back to Moscow, Russia, we filled two large suitcases with presents for our relatives and friends. We also purchased a lot of new clothes for ourselves. At the end of our trip, before leaving Moscow, we bought many souvenirs, books, and records to bring home.
The return flight had two legs: Moscow – Helsinki (Finland) by Finnair, and Helsinki – Los Angeles by Delta. When we arrived in Los Angeles, we discovered that one of our large suitcases was lost.
It took us a lot of time to get the compensation for this lost item. Since we flew with the international airline and then with the domestic one, airlines representatives were blaming each other for our lost baggage.
Eventually, we were compensated, but we wasted a lot of time arguing with these companies.
At the end of our long and exciting trip to India and Nepal, we flew from Kathmandu (Nepal) to New Delhi. The plane landed in New Delhi late in the evening. the flight home was scheduled very early the next morning.
All of us were anxious to get to the hotel and have at least a few hours of sleep. We picked up the luggage from the carousel, but one of our items, a large bag, was missing.
Our tour director was very upset. She said that if I do not get this bag now, I will never see it again. She ran all over the baggage area, talking to the airport employees. Instead of going to the hotel for a short night rest, our whole group had to wait. Everyone was annoyed.
Finally, a baggage attendant found my bag. It was hidden inside the baggage area, in the dark, dusty corner. He gave it to me and asked for a tip. I understood that my bag was "lost" intentionally. It was a scam to get money from a foreigner.
I was very frustrated because the "loss" of the bag shortened our hotel stay by two hours. I am not even sure if I said thank you to that man.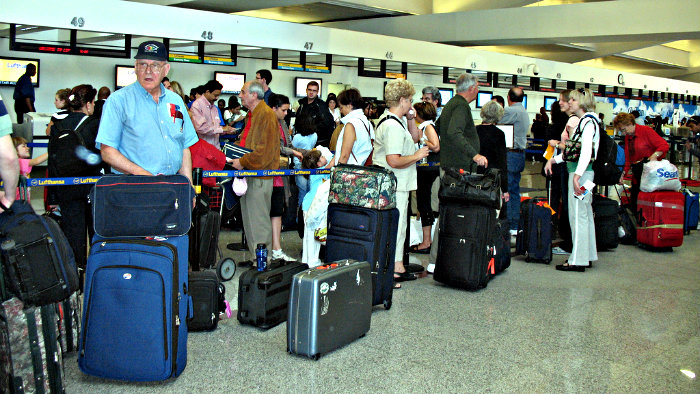 After traveling through Chile and Argentina, we flew to Brazil. The first stop was at the Iguazu Falls. We arrived at the small airport and went to the baggage area to get our belongings.
All other passengers picked up their luggage and left. Only our group stayed near the carousel because I was still waiting for my suitcase. There was just one small black suitcase on the carousel, slowly moving in circles. It looked exactly like mine. But it was not mine. My bag had a sticker with my name.
We asked our guide, Constantin (who spoke excellent Spanish and Portuguese) to help us. The airport employee opened the suitcase. Inside, he found the business card of the owner. Constantin asked that employee to call the number on the card.
Luckily for us, the call was answered by the owner of this suitcase.  It was the Argentinian woman who flew from Buenos Aires to Iguazu Falls. She already checked into the hotel, but still did not notice that she took the wrong bag.
As soon as she was informed of her error, she hired a taxi, came back to the airport, and we exchanged our suitcases. It all ended well, but our group wasted more than two hours in this small airport, instead of relaxing at the luxury hotel.
After reading this blog, I hope you understand why it's better to travel without checked luggage.