Dangerous donkeys in Medina
Suddenly, Abdullah yelled: "Watch out!" The donkey, overloaded with a mountain of pots and pans, was moving towards me. I could see only the animal's head and legs: the load was at least twice the size of the animal and covered most of its body.
At that moment, I was in a dark, narrow passageway, where, with my arms stretched out, I could touch both walls. How could I avoid a collision with the donkey?  I looked around nervously. Behind me, I noticed a recess in the wall. I hastily stepped back into it. The donkey passed by, brushing me with a metal pot handle. I was glad that the donkey was not loaded with knives and daggers!
Now I was not as relaxed as I was at the beginning of the tour of Medina in Fez. During the long walk through the narrow streets and passages, I had to give the right of way to many of these beasts of burden. The unusual environment of this remarkable place demanded my full attention.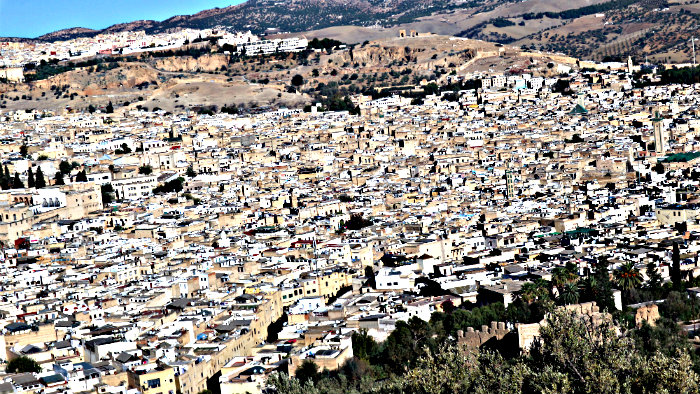 Not knowing the true meaning of this word, we can assume that Medina is a woman's name, a star's name, or something from the field of medicine. In fact, Medina is translated from Arabic as "old city."
In Morocco, all major cities have their own Medina. There are Medinas in Rabat, Fez, Marrakesh, Casablanca. But Medina in Fez (Fes el Bali) is the oldest, the largest and the most impressive. Also, it has the biggest population of all Medinas in Morocco – more than 150,000 people live and work there.
Fes el Bali was founded between 789 and 808 AD. It is listed as a World Heritage Site. It is one of the world's largest urban pedestrian areas.
Should we pay for
the optional tour to Medina?
The visit to Medina in Fez was offered in the program of our trip to Morocco as an optional tour, costing $54 per person. Usually, when we travel with a group, we do not buy many optional tours.
To be precise, we stopped buying most optional tours, when we realized that many of them were not worth our time and money. We like to explore the new places by ourselves, using the guidebook or purchasing trips from a hotel or local tourist office.
We decided not to buy the optional tour of Medina in Fez because I read on the Internet that if you have a map of Medina, you will not need a tour guide.
Almost everybody in our group who hesitated to buy this tour could not resist the warnings of our tour director Hassan. "Do not go to Medina alone, without an experienced guide", – he said into the microphone, while we were driving towards Fez. "You will get lost in the maze of narrow streets; you will be hassled by fake guides and pushy sellers."
When our bus stopped at the viewpoint of Medina, and we observed the size of it (it looked like it stretched for miles in all directions), we meekly agreed to buy the optional tour. (Yes, this Medina is enormous – 540 acres to be exact).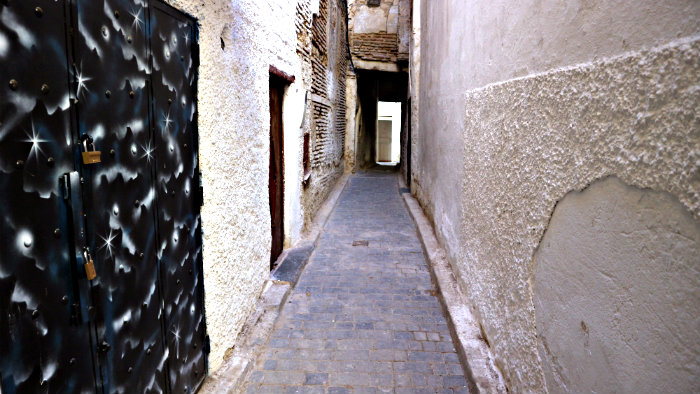 Next morning, after early breakfast, the bus took us from the hotel to one of the nine Medina gates. We were met by a local guide, Abdullah, who was born and raised in this Medina. After he joined the Moroccan middle class, he moved out of this ancient city into the modern area of Fez. He told us that as soon as a family can afford it, they relocate out of Medina.
Abdullah knew every street and alley in Medina. Right away, he led us through the narrowest passages. I felt that I stepped back in time, from the 21-st century to the ninth century.
It was quite dark in these narrow unpaved streets. We were instructed to make a beeline and walk on the left side. From time to time, someone would rush towards us, and we had to squeeze into the wall.
Suddenly, something small ran between my feet and the wall. "Rat!" screamed one woman. "It ran over my feet!" shouted the other. Luckily for me, these were not my feet. All I saw was a small dark shade. This incident happened within first five minutes of walking in Medina.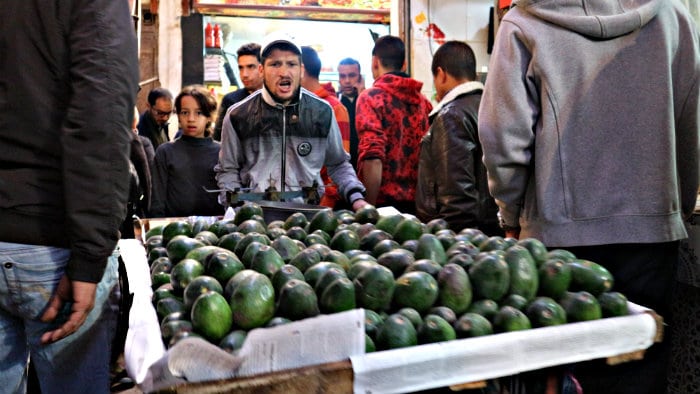 From time to time I heard already familiar cry: "Balak!" ("Watch out!" in Arabic). This warning demanded immediate action: to squeeze into the wall or step into the doorway, to avoid donkeys laden with goods or vendors pushing heavy carts.
We looked into many opened doors. Inside we could see the craftsmen's workshops, where solitary workers, sitting on low stools, were busy with fixing old objects or crafting new ones for sale.
We reached a small square. The air was filled with loud metal clanging. In the buildings surrounding this square, the craftsmen were busy hammering, polishing, buffing brass and copper pots, pans, huge platters, teapots.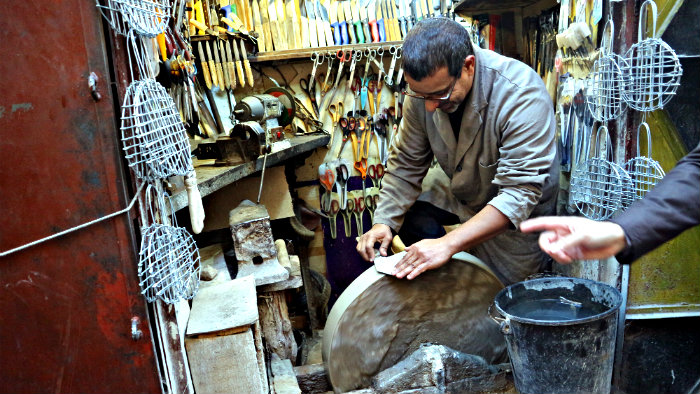 A couple of blocks from that noisy square, the craftsmen were making and selling tajines (Moroccan ceramic pots for cooking.) Some of the tajines were plain, some – intricately decorated. I thought of buying a tajine for my kitchen but changed my mind as soon as I picked up one. It weighed a ton! Purchasing this heavy tajine would be equivalent to buying a cast-iron pan and putting it in my carry-on.
At some point, we came across the University of Fez, the oldest university in the world, founded in 859 AD. Unfortunately, we were not allowed to get inside this ancient, beautifully decorated building.
Souk ("marketplace" in Arabic)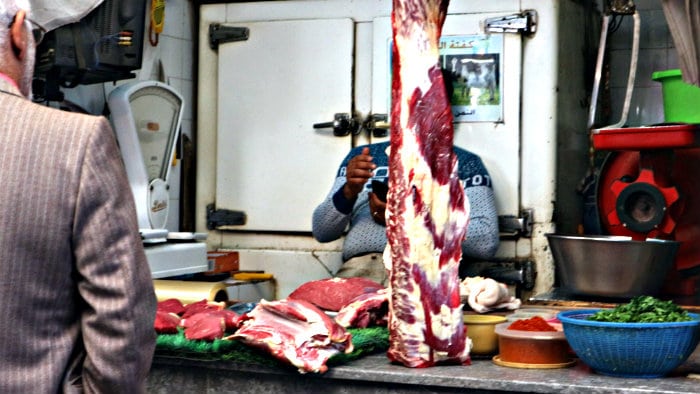 After making many turns to the right and left, we reached the souk. It had lots of small and large stalls. Some of them had the abundance of things for sale and some – just a few items. At one tiny stand, an old woman was selling a few packs of bubble gum, and a few candy bars and cookies. How could she make any money this way?
We saw the mounds of colorful spices: curry, turmeric, paprika, cumin, coriander. Some vendors were offering a huge variety of olives: black, green, green with lemon, green with chili, fresh olives for people to buy and cure by themselves at home. We passed the butchers' area with goat heads, camel heads and other meats hanging in front of the stalls.
Everyone was taking lots of pictures. Abdullah told us to be careful when we wanted to take a picture of artisans, vendors or people on the streets. We had to ask the permission of the person whom we wanted to photograph.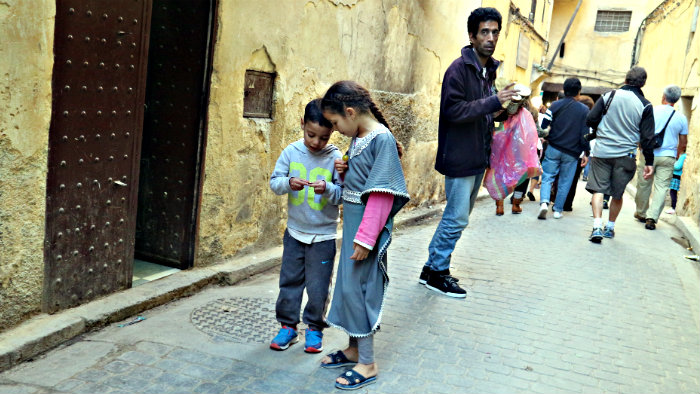 It seemed that our guide knew every other person on the street. He greeted his male acquaintances with a hug and a kiss on the cheek. I did not notice that he greeted any woman whom we passed.
Some of the women were covered from head to foot, some had just an opening for their eyes, and the rest had their heads covered by scarves. Most women looked down while walking. Was it because of modesty or because of uneven cobblestones?
These frequent meetings with friends started to annoy me. More than once, Abdullah stopped and chatted with one man or another. Shouldn't he talk with us instead? We are on tour after all.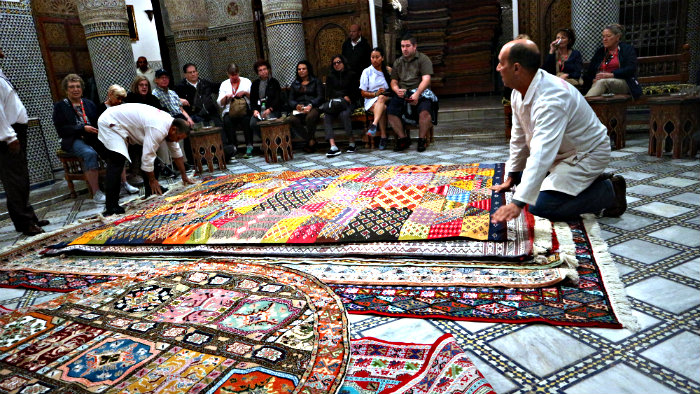 After a couple of hours, we came to the carpet store "Dar Zarbia". Outside, the building looked very old and dilapidated. However, when we stepped inside, the interior was a completely different story. It was impossible to take the eyes off the gorgeous carved ceilings and intricate tiles which covered the walls and floor.
As soon as we sat down on low benches in the big square hall, we were served the "Moroccan whiskey," aka mint tea. And the show has begun!
We visited many carpet places – in China, Turkey, and some other countries. Of course, if you travel independently, you don't go to such places if you do not want to. On the escorted tour, however, you have no choice.
I am not a shopper. Here is my way of handling the "shopping stops" included in the itinerary. I watch a presentation with interest because I learn something new. As soon as the "performance" starts moving towards selling, I find a cozy place and read a book, while the rest of the group is shopping.
The sellers at the carpet place were real professionals, who gave us a beautiful show. They started with the largest carpet first. It was probably 30'x 30'. Both sides of it were gorgeous. You could use one side for the summer, when you need the flooring to be cooler and another side for the winter when you want the floor to be warmer. The price was as big as the carpet.
Next carpet was a little smaller, with a completely different design. It was a well-choreographed event. In about 15 minutes there were 10-15 layers of carpets with the smallest on top.
By the way, if before your trip to Medina, you will read the reviews of "Dar Zarbia" on TripAdvisor, you will decide to watch the presentation only. It will help you to avoid the buyer's remorse. According to the reviews of tourists who purchased carpets from this place, they would spend much less if they would buy such carpet back home.
While waiting for people who were buying carpets, the rest of us climbed the stairs to the roof terrace. I wish they would tell us about this terrace earlier – the view was superb! From the top of this building, we could see the blue sky, the mountains, and the roofs of Medina ancient houses.
We stopped at the Caravanserai.  Caravanserai was a roadside inn where travelers could rest and recover from the day's journey. Most of these travelers were the merchants who used to come to Medina to sell their fares.
Before traveling to Fez, we visited Caravanserais in Turkey and other cities in Morocco.  The Caravanserais we saw before Medina in Fez were big fortresses surrounded by streets and squares.
The government turned this building into a museum, where the antic wooden furniture was on display. We walked on all three levels, picking into rooms which served as hotel rooms in the past and now are used to exhibit old chests, tables, benches, shelves.
Lunch at the Medina restaurant
When it was time for lunch, we went to an incredibly beautiful restaurant. It was a tourist place: besides our group, there were a few smaller or larger groups of foreign tourists. Inside, we did not see any locals except for the waiters. Beautiful mosaics covered all surfaces – floor, walls, ceiling, and columns. It looked like a fairy-tale palace. Probably it was someone's palace a long time ago.
The food was Moroccan: baba ganoush, couscous, tajines (lamb, chicken, veal, or vegetarian). The meal had a typical ending – sticky sweets and Moroccan mint tea. Moroccan tea is made of Chinese gunpowder green tea with fresh mint leaves and lots of sugar. You can ask for tea without sugar as well.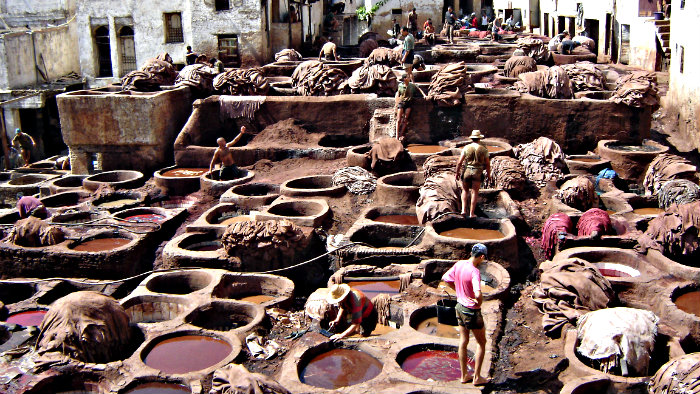 After lunch, we moved to the "smelly" part of the tour – the tanneries. The leather tanneries are among the top attractions in Medina. Some of them are functioning since the medieval ages, and the process of turning hides into supple leather was not changed since that time. Workers dip skins into open vats that contain animal urine and dung. After soaking skins in this smelly brew, the workers soak hides in dyeing pits containing natural vegetable dyes of different colors.
Before entering the tannery, each one of us was given a sprig of mint. We were advised to keep mint in front of the nose to reduce the nauseous smell. It was funny to see every person holding that fragrant herb as if his or her life depended on it! Probably because of the smell in the tannery, we did not get mint tea. Too bad. I started getting used to this refreshing drink.
Besides the danger of being plastered against the wall by a passing donkey or a heavy cart, we had another potential risk – being lost in the maze of Medina. We tried to be very alert while walking through the narrow passages.
More than once, Abdullah made a sudden sharp turn. People who did not pay attention would keep going straight. Luckily for them, someone would notice and yell: "Wrong way!" Fortunately, this aspect of the tour was organized very well – we had three people who took care of all of us: our tour director, Medina guide Abdullah, and Abdullah's helper.
Medina guide was walking in front, our tour director walked behind everybody, and the helper ran back and forth, making sure that nobody strayed.  In the end, it was a success: after 6 or 7 hours in Medina, no one got lost, and no one stumbled and fell on the cobblestone surfaces.
Towards the end of the tour, everything started looking the same. We saw too many shops and too much stuff. We were happy to get out of this ancient labyrinth and to flop into the seats of our air-conditioned bus, where the driver assistant gave us the bottles of icy water.
We did not have any alcohol drinks since we came to Morocco. But this evening, after returning to the hotel, we walked to the supermarket and bought a bottle of Moroccan wine to celebrate the exhausting and at the same time a fascinating trip to Medina.
Visiting Medina independently
I am sure, that on our own, using the map, we could navigate the major streets of Medina. We just would have to avoid the extremely narrow alleys, where it is easy to lose every sense of direction.
You can buy the detailed guide "Fez from Bab to Bab, Walks in Medina" at the bookstore outside the Medina gates. Also, there is a system of informational walks around Medina marked by color-coded signs. However, we read that these signs are often hard to spot.
Next day, we found out that one couple from our group did not join the optional tour – they went to Medina by themselves. They told me that it was fun to wander around independently. Even if they got lost a couple of times, these two brave souls could quickly find one of the main thoroughfares with the help of vendors.
Tip: do not ask a stranger for directions, you might end up with someone following you around for the whole day and asking for a large sum of money for their "work." It is much better to ask one of the vendors – they can not leave their shop to follow you around. And don't feel that you have to buy something from that vendor before asking for direction.
But no matter what option you choose (visiting Medina in an organized group or independently), remember that you were forewarned about the "dangerous" donkeys in Medina. You'll undoubtedly encounter many of them!