Best time to visit Greece
The timing of our trip to Greece was perfect – the end of March. Not too hot, not too cold. And everywhere – spring flowers.
During this period (from the end of March to the middle of May), the contrast between ancient ruins and the abundance of blooming wildflowers is especially striking.
Another advantage of visiting Greece during this shoulder period: you will avoid the high temperatures of summer (up to 100°F or +40C), the inflated prices for hotels, crowded tourists attractions and beaches.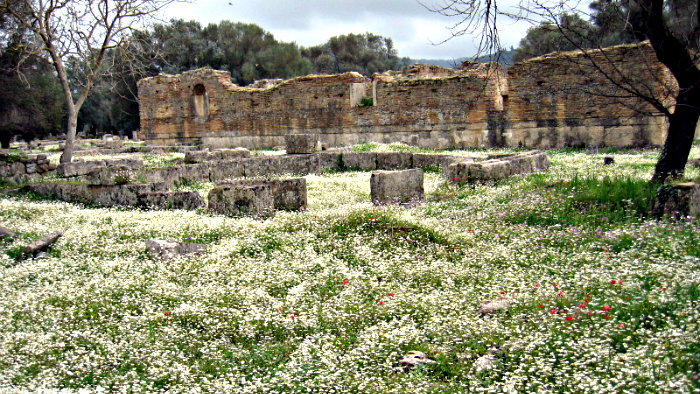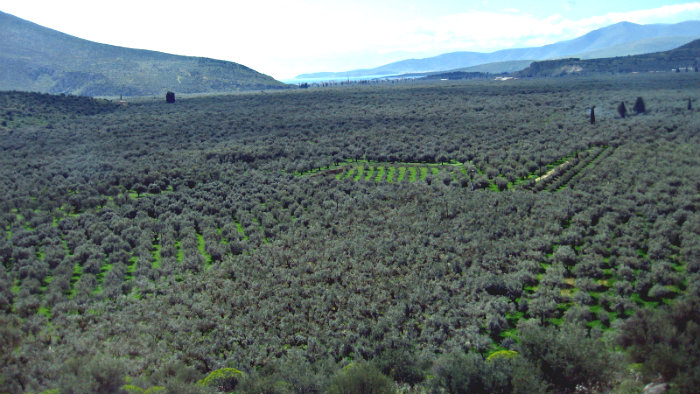 And olive trees! When we traveled through  Greece by bus, we had an impression that almost the whole country was covered by a green carpet woven from olive trees. And this color (my favorite) is not just plain green. Up close, these trees are grayish-green. Further away, they have blueish hue.
Athens – the capital of Greece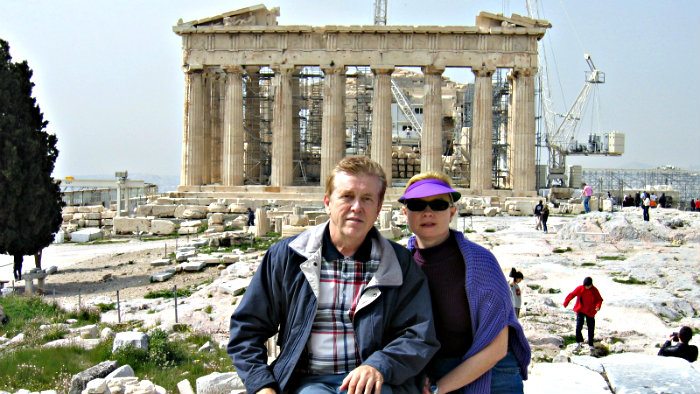 We spent four nights at the hotel located next to Plaka. It is the oldest section of Athens, next to the cliffs of Acropolis. It has many areas for pedestrians only, and narrow, winding streets filled with small souvenir shops (which I always skip), and numerous little restaurants.
In the evening, the whole city was looking for a place to eat. Instead of paying high prices in the restaurant, we found a trendy take-out place for gyros, favorite Greek snack. The line to this "hole in the wall" was long, but moving fast.
Every evening, we would buy and eat it sitting on a bench in the square, sipping sweet wine, looking at the crowds walking by and enjoying the view of brightly illuminated Parthenon above our heads.
Break from the noisy city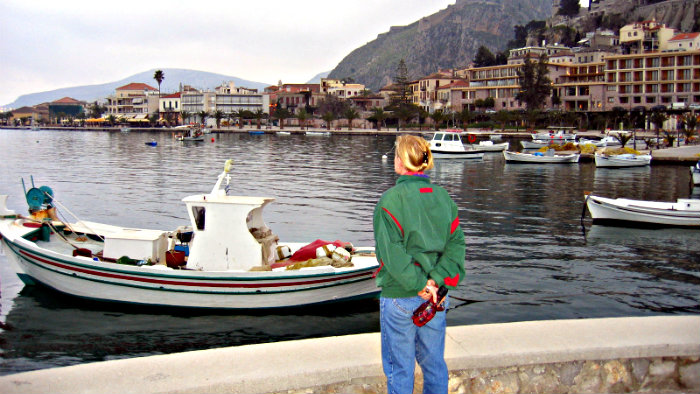 On a free day, we took a city bus and went to the nearest beach town. I am sure that this place would be packed with the tourists during summer, but in spring it was deserted. We walked by the fishing boats and enjoyed the fresh sea air. It was a wonderful break from the noisy city.
Olympia – site of the first Olympic Games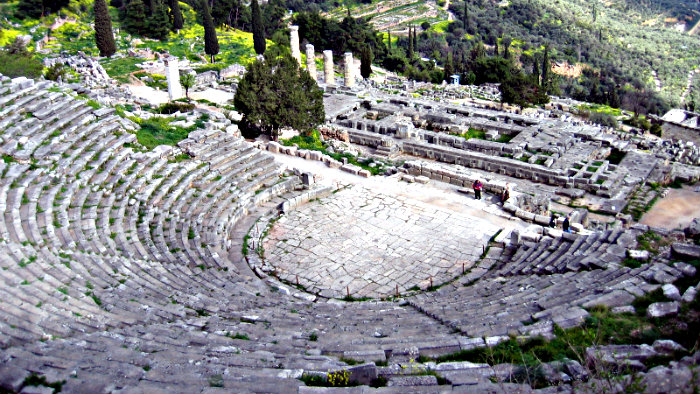 There are mostly ruins in this area but if you have a good imagination, it's easy to recreate the picture of how this former site of the original Olympic Games looked fifteen hundred years ago. It was a large complex: a stadium, athletic training areas, several temples. Some of them were dedicated to Hera and Zeus, the major Greek deities.
I expected to see crowds of tourists, but because it was March, we were almost alone at this historic place. A carpet of wild spring flowers covered every square foot of this area. I saw a lot of violets, one of my favorite spring flowers.
We sat at the stadium and listened to our guide telling us about the history of the Olympic Games. We felt like the patrons who were waiting for the athletes' competitions to begin.
Delphi – place of Temple of Apollo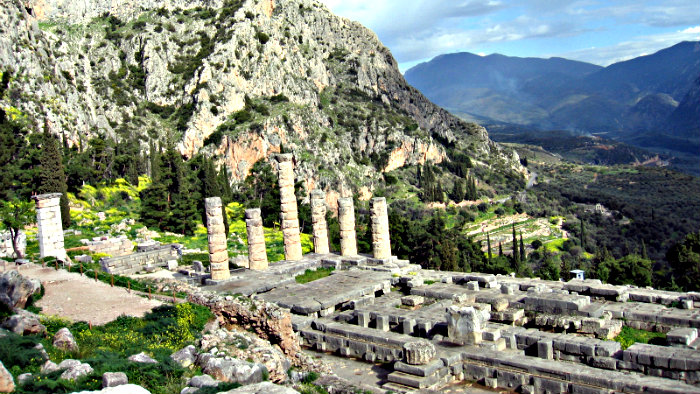 Delphi complex with many temples is located on the mountainside. Be prepared for lots of walking up and down. Delphi was a center of worship for God Apollo.  Pilgrims traveled to Delphi to ask the oracle of Delphi to talk to the spirit of Apollo and get advice about their future and different matters of their life. Other temples were devoted to numerous Greek deities.
Spring flowers and fresh grass surrounded every single stone in Delphi and made a nice contrast between ancient ruins and young blooming flowers.
Our hotel near Delphi had incredible views of the mountains. I enjoyed sitting near a massive fireplace next to the bar, looking at the evening sky through large windows. It was a perfect place to relax after climbing the hills between ruins and absorbing the history of Delphi.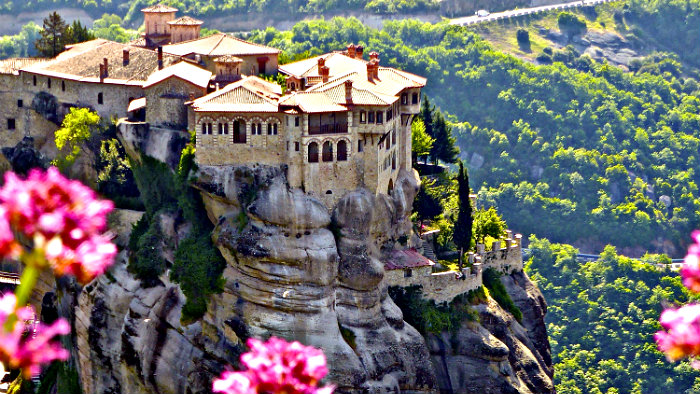 Undoubtedly, Meteora is one of the most mystical places we ever saw. I wish we could spend several days, driving and hiking from one monastery to another. Meteora (from Greek 'meteoro'- suspended in the air) is a complex of monasteries built on vertical cliffs above a valley (some cliffs are up to 1,200 feet high). Initially, in Meteora, there were twenty-four monasteries. Now, only six remain.
We came to Meteora early in the morning. As the bus was climbing higher and higher, we could not see the town in the valley, because of the fog, and we did not realize how high we were.  After a few minutes, the fog started to dissipate.
We could not believe our eyes – the monastery we came to see was built on a sheer high cliff! Our tour included only that monastery because it had easy access by bus. By foot, we just had to cross a short bridge. Monks were building this particular monastery for many years. They had to use ropes, ladders, nets, baskets to bring the building materials to the very top of the cliff. For several centuries and even now it is a holy place for the Orthodox Christian pilgrims.
Orthodox Easter in Greece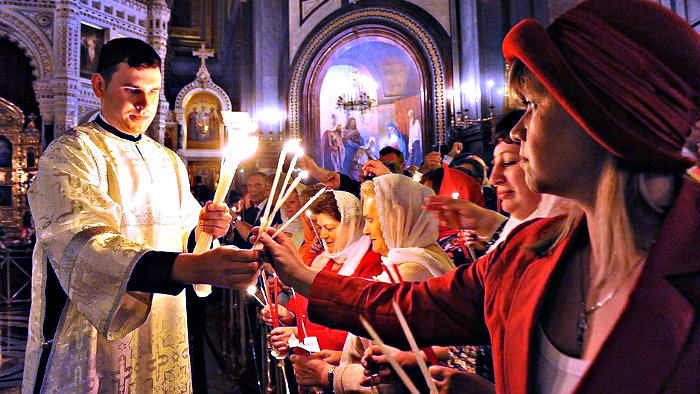 There is another reason why spring is the best time to go to Greece. Spring events in this country include Orthodox Easter, widely celebrated throughout the country. Easter is the most sacred observance in the Greek Orthodox faith.
Greek Easter Dates: 2020 – 2024
2020 – Easter Sunday – April 19th
2021 – Easter Sunday – May 2nd
2022 – Easter Sunday – April 24th
2023 – Easter Sunday – April 16th
2024 – Easter Sunday – May 5th
***
Our tour around Greece included only the land. We still haven't visited the Greek islands. We plan to do it in the near future. Maybe we should ask the oracle of Delphi when is the best time to go to Greece to visit the islands?