Many dishes in Turkey reminded us of the meals we had in Greece. No wonder, just look up the Turkish history, and you will see that some parts of Turkey, like Istanbul, used to belong to Greece.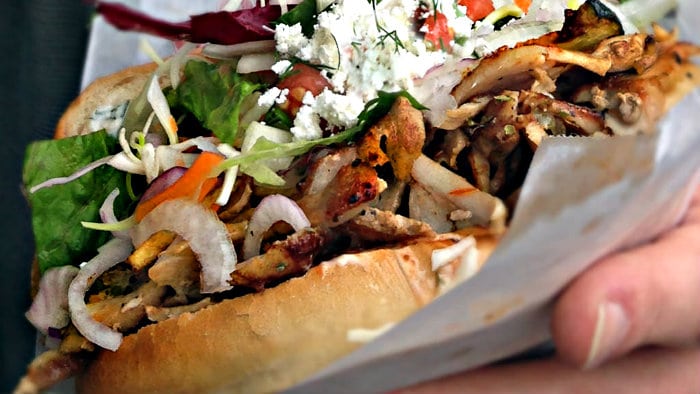 Take Doner, for example. It is almost an exact copy of Greek gyro. Doner is a sandwich with lamb, chicken or veal with fresh vegetables and yogurt with garlic. The meat is roasted on the vertical rotisserie.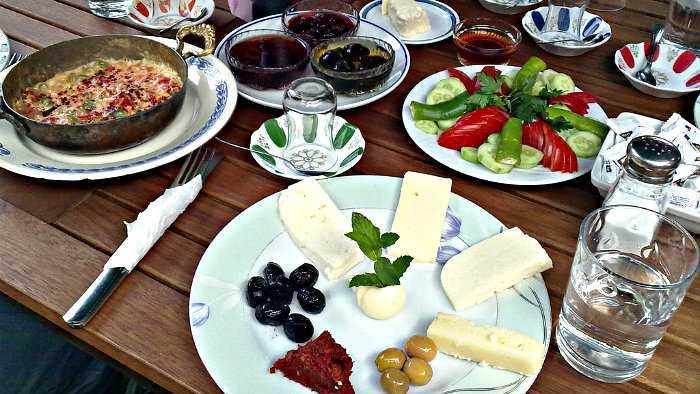 Raki, traditional Turkish liquor comparable to Greek ouzo, is customarily served with several cold appetizers called meze. Meze includes a lot of small plates filled with olives, feta cheese, cucumber and tomato salad, chickpeas salad, pita bread. The list can go on and on.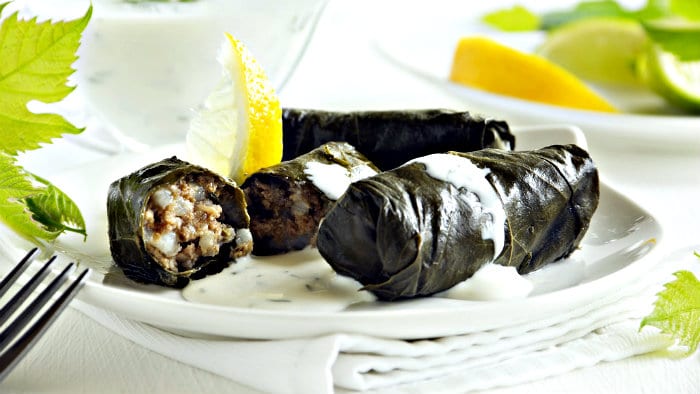 Dolma is the name of the dish in which the grape leaves or bell peppers are stuffed with ground meat, rice, onions, tomatoes, spices.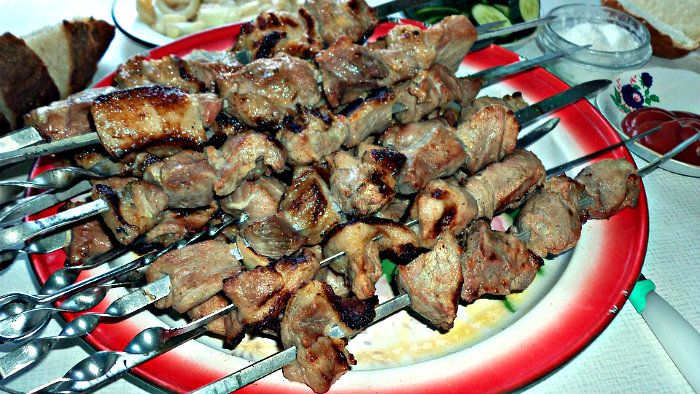 Sis Kebap is shish kebab made with lamb, chicken or fish cooked on wooden or metal skewers over the open flame. Always delicious!
Mercimek Corbasi (lentil soup)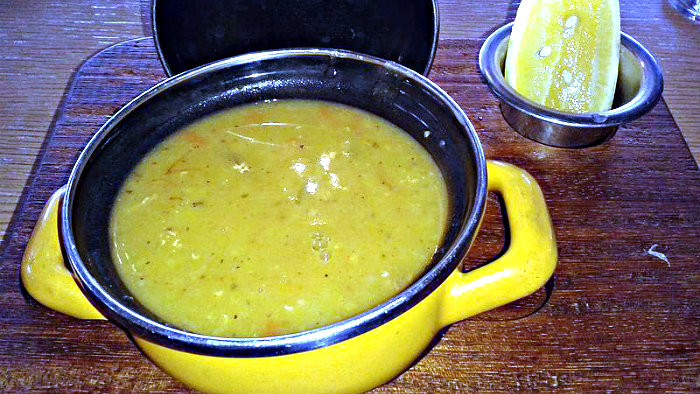 Mercimek Corbasi (lentil soup) is very healthy and easy to make. The ingredients are lentils, bulgur, chicken broth, tomato paste, spices. Before eating, squeeze lemon juice and sprinkle dry mint on top. We like this soup so much that now it is a regular meal at our house.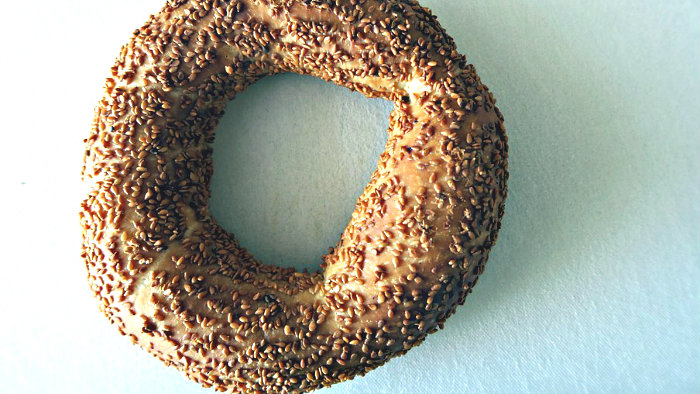 On the streets of Istanbul, we saw lots of simit vendors. They carried large wooden trays with something that looked like enormous bagels. Some of these "bagels" were plain, some were covered with sesame seeds. It is typical breakfast food. They were surprisingly cheap.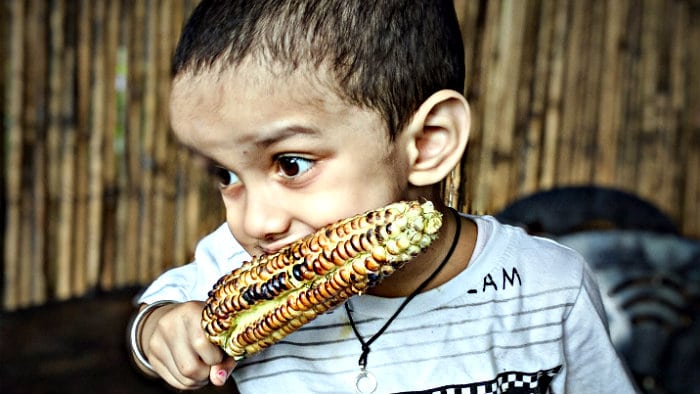 Another simple snack sold everywhere was misir (corn). Vendors were selling boiled corn from large pots. I love corn and can eat it every day. Unfortunately, when I tried misir, it was overcooked and not hot. Kernels were hard and dry. I never bought an ear of corn in Turkey again. Maybe I just bought yesterday's corn from a lousy vendor?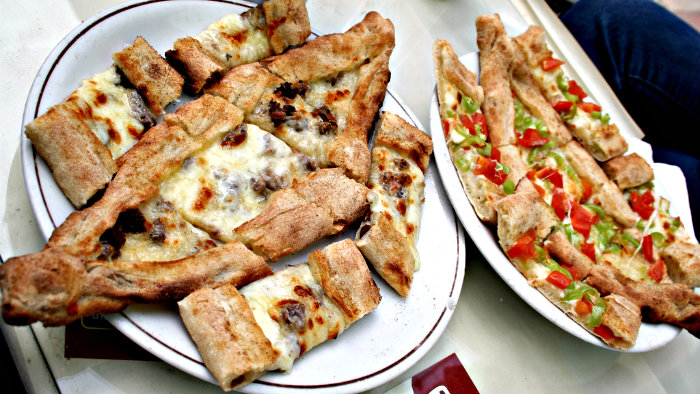 Pide is excellent street food. It is flatbread with cheese or meat on top. It reminded us of pizza. It was easy to hold and eat, no plate needed. The bread is shaped like a canoe, and the stuffing is put inside this "canoe." If you eat on the run, the shape of pide is much more practical than pizza because the filling stays nside.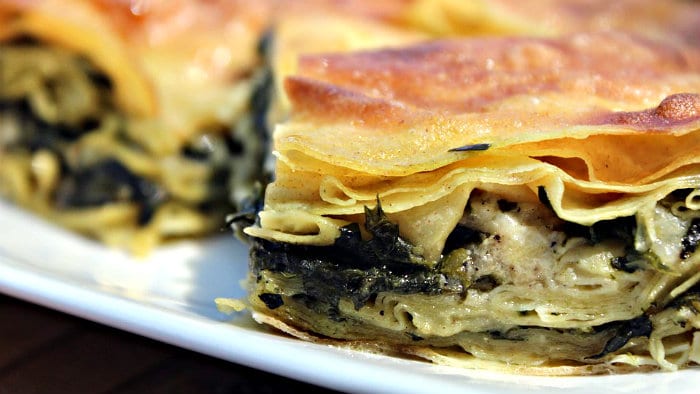 Another traditional snack sold everywhere in Turkey is borek. It is a savory pie made with phyllo dough, filled with meat or spinach and cheese.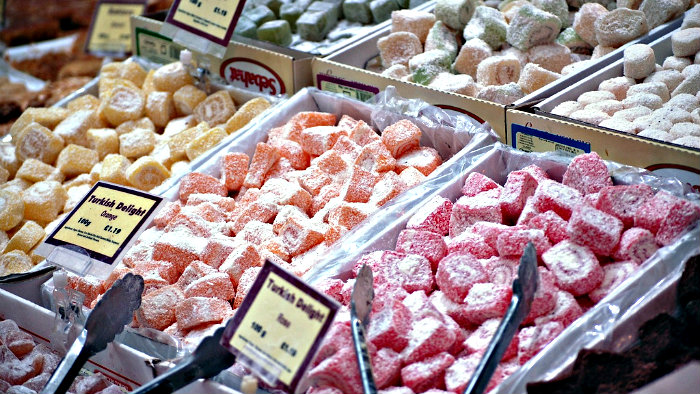 Turkish desserts deserve a much longer article. Lokum, known by another name Turkish Delight is delightful, indeed. It is made with sugar, cornstarch, rosewater, maybe with pomegranate juice, and filled with nuts – walnuts, pistachios, hazelnuts.  To keep pieces of lokum from sticking together, they are frosted with powdered sugar. 
These little nuggets are the pride of Turkey. Walking through the Spice Bazaar in Istanbul, it is impossible not to try one or two (or more) from the multiple trays which the vendors put out to attract the shoppers. Unable to restrain ourselves, we bought several boxes of Turkish Delight to bring home.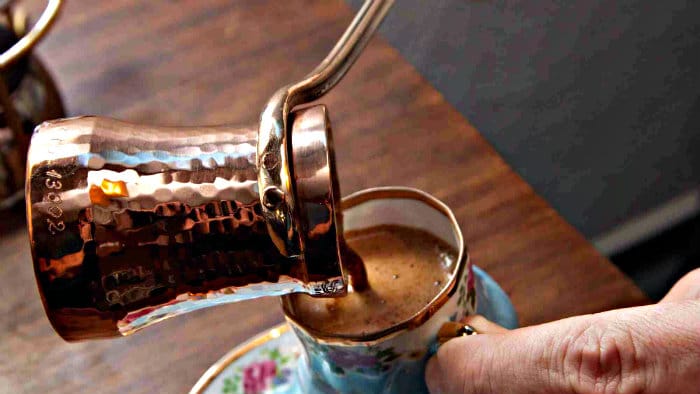 Turkish coffee. This is a distinct kind of coffee. It is prepared in a small metal (usually copper) pot with a long handle. You put coffee in this pot (called cezve in Turkish), add water, and place your cezve on the burner. Watch your coffee closely, you don't want it to spill over the rim when it starts boiling.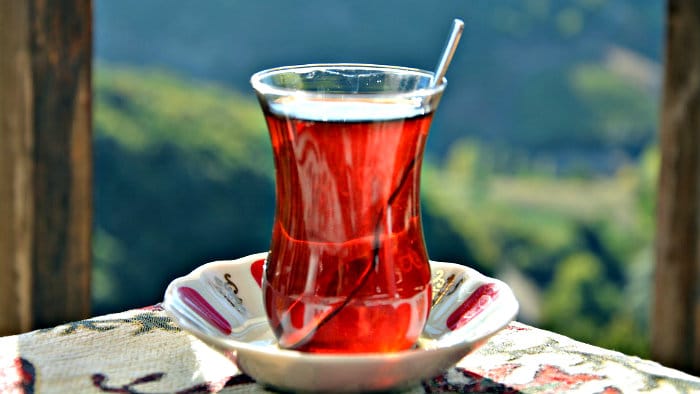 Turkish tea is grown on the eastern Black Sea coast of the country. Everywhere, we saw small or large groups of Turks sitting around low tables drinking tea from the tiny tea glasses.
On average, Turks drink 10 to 15 glasses of tea per day. Seeing these elegant glasses being sold all over, we were tempted to buy a full tea set for home. We ended up not buying it because one of us remembered that we like to drink tea from large cups.
Book your flight to Turkey
Best time to visit Turkey
Best time to travel to Turkey – spring, from March to May, and autumn from September to mid-November.