Our trip to captivating India
India is one of the most exotic countries
we have ever seen!
I, Alexander, lived in India for two years, working in that country for the USSR Ministry of Foreign Trade. At that time, my wife Elena was still in elementary school.
I am a fiction writer, and one of my books "Hotel Million Monkeys" includes a few stories about India.
I told Elena a lot about India, and for many years we talked about visiting that country together. One year we even bought a travel book about India. We studied it thoroughly, but because of political unrest (assassination of prime minister Rajiv Gandhi in 1991), we decided to postpone the trip.
We joined a group tour to India and Nepal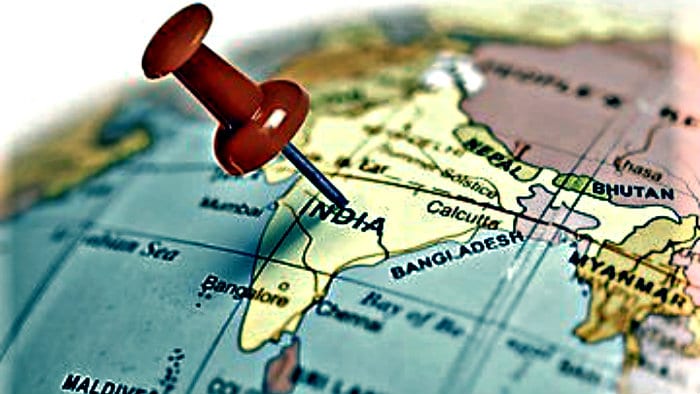 Finally, we joined a group tour to India and Nepal. What a journey it was! It started and ended in New Delhi. We had an experienced and knowledgeable tour director, Bonita. Bonita (or Bonnie) is an American woman. After graduating from college, she went to India as a tourist, fell in love with an Indian guy, and since that time lived in India.
Our group had local, English-speaking guides in all the places that we visited, but Bonita was always with us. She met us at the airport when we arrived in New Delhi, and she said goodbye to us at the ticket counter at the same airport. She took care of all logistics connected with traveling from city to city. Thanks to our travel guide, it was a care-free trip.
You can check out two reliable companies that provide group tours around India. Intrepid offers a variety of trips lasting from 15 to 82 days. G Adventures also offers a huge selection of group tours. Both companies offer great and exciting itineraries. You can choose the tour that fits your budget and schedule.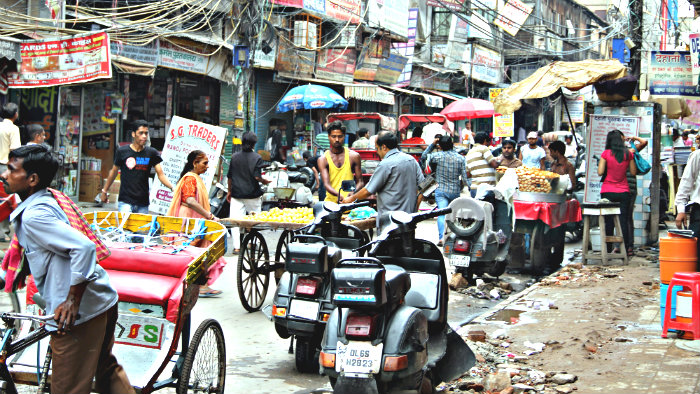 On the bus ride from the New Delhi International Airport to our hotel, we realized that "we are not in Kansas anymore." It was late in the evening, and we caught sight of people sleeping on the narrow divider of the highway.
The cars, buses, trucks were speeding by, but these poor people kept sleeping there on pieces of cardboard, covered with blankets or burlap. Can you imagine seeing something like this on I-95?
There were many cows on congested streets, on sidewalks, in ditches, in the fields. Cows in India are sacred animals. People can drink cow milk, but they cannot kill cows and cannot eat beef.
The highways were protected from wandering bovines with chain-link fences, but smaller roads were wide open for these animals. Through the bus window, we observed what cows were eating – garbage, newspapers, pieces of cardboard.
On the way from the airport to the hotel, we saw thousands of people on the streets dressed in traditional Indian clothing (most women in saris, and men in dhoti or mundu). They were walking, squatting, shopping, eating, sleeping, taking a shower from the hose, urinating in the ditches.
Our group spent two days in New Delhi. It's a huge, overcrowded city with lots of smog. But it has a lot to offer to the visitors. We visited a few famous tourist places, one of them – the Gandi Museum.
After our group had checked in the five-star hotel, the two of us decided to go for a walk. This "adventure" lasted for about five minutes. Outside of the hotel's grounds, it was pitch dark. Just a few steps from the hotel, we were besieged by beggars, most of them were young boys and girls. We decided to retreat to our luxurious accommodations.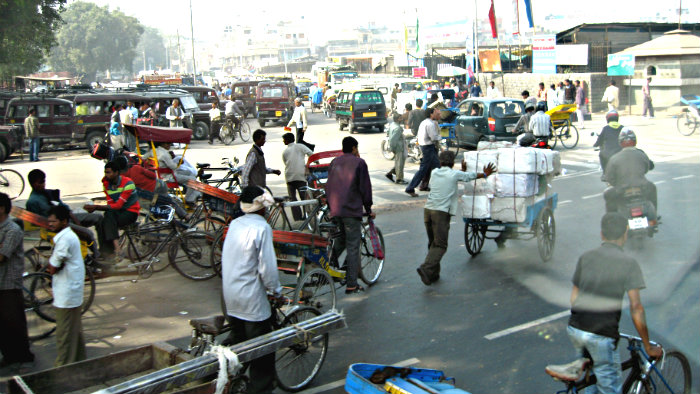 After two nights in Delhi, we hit the road. We believe we are good drivers, but we wouldn't survive on the Indian streets even for five minutes. Drivers in India do not follow lanes. Four or five cars fill two or three lanes, and traffic looks messy and dangerous.
On the roads, we saw many old, overcrowded, colorfully decorated buses. They looked like American school buses from the fifties or sixties which were painted in vivid colors and decorated with ribbons, fringes, pictures, mirrors. These wonderfully decorated vehicles made our long trip from Delhi to Jaipur very entertaining.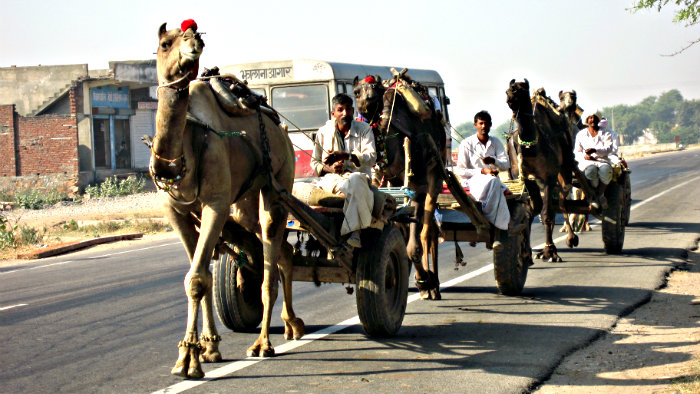 This part of India is even more colorful than the New Delhi area. A lot of camels. Very bright colors of women's saris: red, orange, pink, yellow, purple.
Every village that we passed had vendors selling mounds of familiar or strange looking fruits and vegetables on the tables that lined up the road.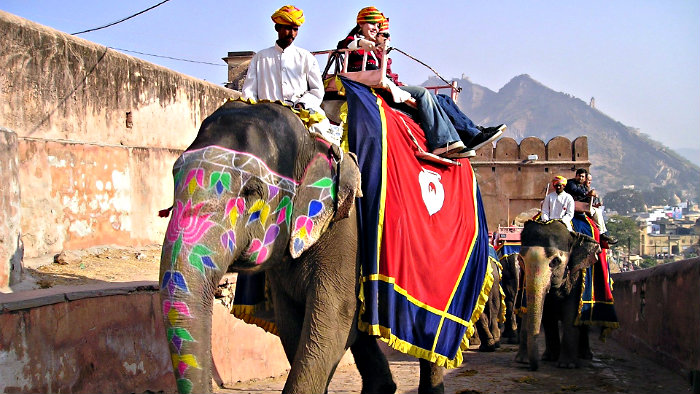 Not far from Jaipur, we went to Amer Fort. To get there,  we had to ride the elephants up the hill. As we were standing in line behind other tourist groups, we watched elephants going up, and down the narrow road.
Our local guide told us that the elephants make this trek only early in the morning. By the afternoon, they get tired and irritated. Annoyed and angry elephant?
The guide continued that a few months ago there was an incident when the overworked elephants stampeded and some tourists were injured. He casually mentioned that there were a few fatalities too.
After that event, the local government prohibited the use of elephants for riding in the afternoon. What great timing – to tell us this story just before we had to go on the elephant ride! Elena's legs were shaking, but she decided to be brave.
They put four people on a small platform attached to the animal back. The driver was sitting in front, behind the elephant's ears, without saddle or pillow. As we were climbing higher and higher, Elena was getting more and more scared. The scariest moments were when we had to pass elephants which were going down the hill on that narrow road.
Suddenly, the driver turned to us and said something in Hindi. Our first thought was: there is a problem with his elephant, and the driver is trying to warn us. Elena was already shaking from fear; now she was ready to panic.
What a relieve it was when a woman sitting behind us figured out that the driver was asking for a tip before the ride was over. We were ready to give the driver all the money we had on us just to get off this elephant in one piece.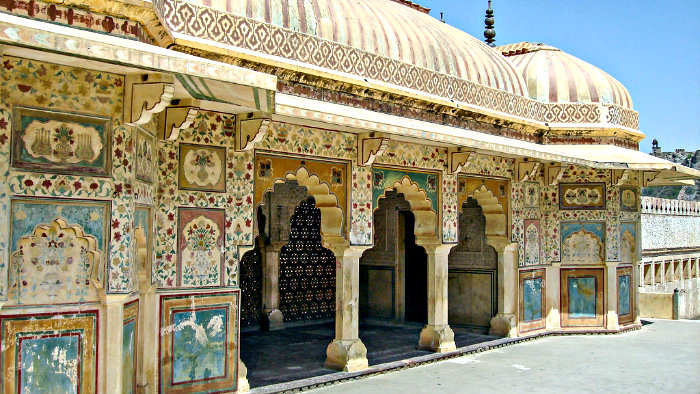 The Palace of Mirrors was an unusual place: on top of the hill, with splendid views, lots of mirrors decorating ancient buildings. We were glad to find out that we would go down by a jeep, not on the elephant. Enough excitement for us for that day.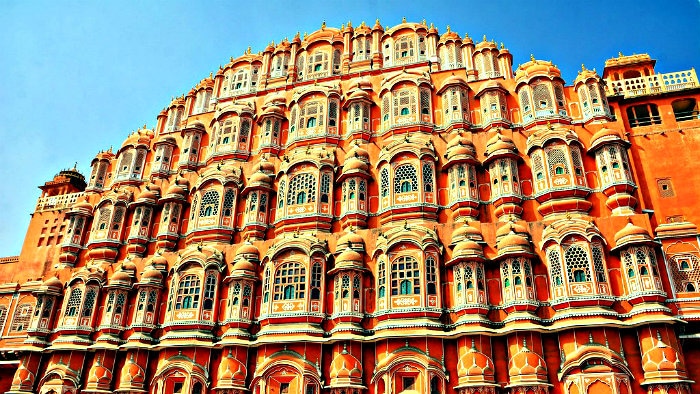 In the city of Jaipur, we visited the Palace of the Winds. It was constructed for Maharaja in 1799 as an extension to the Royal City Palace of Jaipur. From this Palace, the royal ladies could discreetly watch processions and activities on the street.
From the top floor, we could see the bustling street. "Look down there," said Alexander pointing to the group of people holding brass instruments. The whole brass band was trying to fit into a motorcycle taxicab.  This popular mode of transportation could fit two average-sized Americans or four Indians.
How could this tiny taxicab accommodate ten musicians with their instruments: trombones, French horns, trumpets, and tubas? Surprisingly, it took them just a few minutes to get into the cab.
When this little taxi started moving it looked like a gleaming porkypine – shiny instruments were sticking outside, blinding us with sun reflections.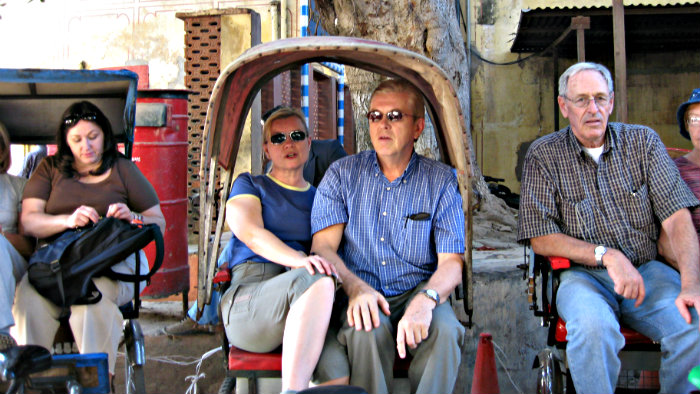 One of our tours in Jaipur included a ride on cycle rickshaws. Little did we know that it will a ride from hell.
The bus brought our group to the center of town, where the rickshaw drivers were already waiting for us.
As soon as our rickshaws left the parking lot, they joined the crazy traffic with cars, buses, trucks, taxis, cows, goats and stray dogs. More than once during this ride we were sure that some truck or bus will run us over. Miraculously, each time either rickshaw or truck driver made a sharp turn.
We asked other people from our group how did they feel during this insane ride. Each one of them said that they did not want to repeat such an "adventure", ever. But we had to repeat it, and the next rickshaw ride in Varanasi was even more horrifying.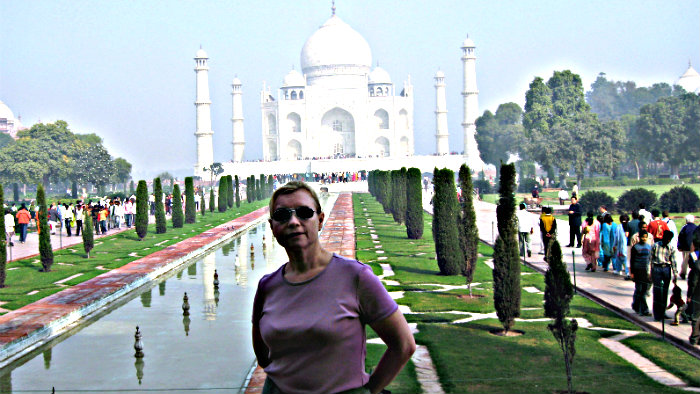 Agra is the world-famous city because of Taj Mahal, the ivory-white marble mausoleum and one of the wonders of the world. At the ticket booths, we saw long lines of independent tourists. Our group already had the tickets, so we went right through. The guide gave us a tour and then we had free time to wander around.
It doesn't matter how many times you saw pictures of Taj Mahal or watched videos about this majestic structure – you must see it in person. The grounds are well groomed and very spacious. Even with hundreds of visitors walking, taking pictures, sitting on the grass and benches, we felt that this incredibly beautiful mausoleum was created just for us.
Taj Mahal was built on the bank of a river. When we looked down at the water, we saw a lot of garbage on the river banks. We were stunned! It was as if we just had a meal at a five-star restaurant and instead of walking out from the front door, we opened the door to a back alley and saw an overfilled garbage container.
But we were not disappointed and surprised; by now we already knew that India is a country of huge contrasts. Our brains might still remember the trash, but our hearts remember the incredible beauty of Taj Mahal!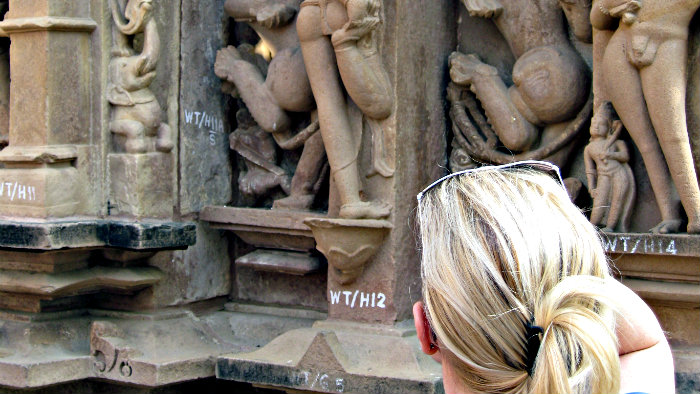 Khajuraho is another must-see destination in India. It is a vast complex of temples with erotic sculptures which depict Kama Sutra, the ancient Indian text, that we westerners think of as a textbook on sex. This group of temples is another UNESCO World Heritage Site in India.
As we were approaching Khajuraho, we could hear giggles from the back seat of the bus. Some people from our group were anticipating the site of male and female sculptures in intricate sex positions. The same travelers were speechless when they finally saw this incredible architectural marvel. We all were in awe!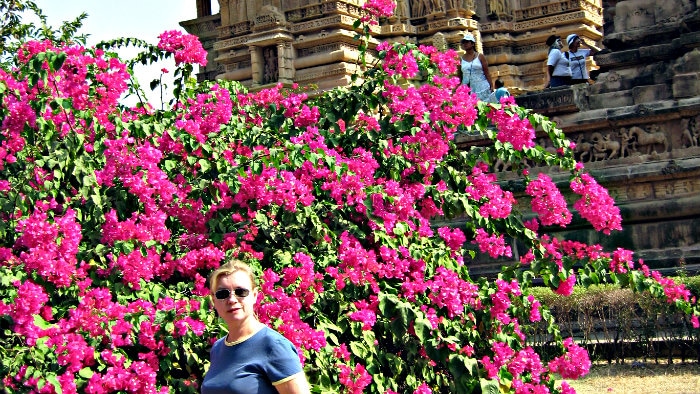 During the tour of the Khajuraho complex, our group stopped next to bougainvillea bushes. We lived in California and Florida, and we knew our bougainvillea. But we couldn't imagine that in India bougainvillea can be so magnificent.
Suddenly, appearing from behind the bushes, a small Indian man approached our local guide and addressed him in Hindi. The guide said that this man is his friend and he has unique souvenirs for sale.
The vendor showed us small bronze containers filled with powdered dyes in six different colors. Our guide told us that just for our group, these containers were available for the "deeply discounted" price, just $3 each.
The sun was bright; the sky was of deep blue color; bougainvillea was dripping with dazzling flowers; our group was enchanted by the temples we just walked through. This little container looked like an ideal ending to this perfect day. ALL of us (25 fools) bought that bronze souvenir.
Even Elena, a person who hates shopping and buys only spices, teas, and coffee on our travels, bought one. How would we use these dyes? No one knew.
We still have this container at home. We make sure that when we dust the shelf with this mysterious souvenir, we do not drop it. Nonetheless, Elena did drop it once on the white porcelain tile. The souvenier scratched the floor, and we spent a lot of time wiping the rainbow of six colors. Was that the purpose of this mysterious container?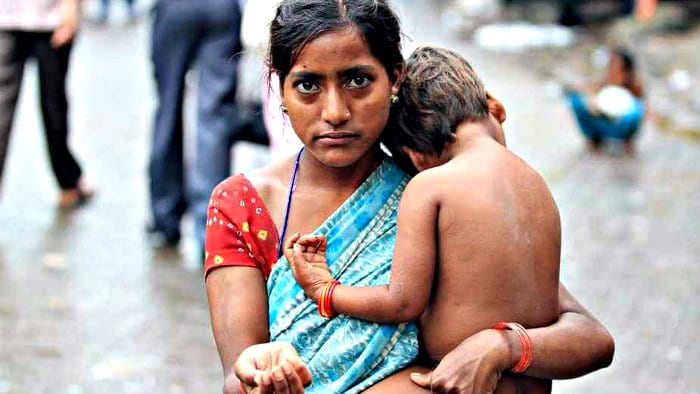 Everywhere in India, we encountered swarms of beggars. We felt sorry for those children, mothers, old people, lepers, blind people, holding out their hands for money. But our guide warned the group that if we give something to just one beggar, the dozens of other beggars will swarm over us.
We were glad that we traveled with a group. The tour guide protected us from the onslaught of beggars.
During our trip to India, we stayed in four and five-star hotels. But we were saddened by the sight or poor families who lived on the street just next to our luxury accommodations. We often saw these destitute people burning wood to cook food and to keep warm.
Our tour director warned us that a number of beggars we encountered in the previous places in India would pale in comparison with a number of beggars in Khajuraho. She was correct.
Wherever our group went, we were surrounded by young and old, all asking for money. We tried not to make eye contact with them. We made sure that none of us gave them even a coin because after that it would be no end of begging.
In the afternoon, after the morning tour, our group returned to the Radisson hotel. The hotel was a few miles away from town.  It had spacious, beautiful grounds, but it had not enough space for walking. 
The two of us decided to go for a walk and ventured outside of the hotel grounds to the small country road.
Strolling on this deserted road, we saw a young man on a bicycle, leisurely cycling toward our hotel. A minute later, the same bicyclist made a U-turn and raced back at high speed. We thought it was strange. Soon we saw another young man walking quickly toward us.
He was nicely dressed: black trousers, white shirt, tie. He greeted us politely and started talking to us. For some reason, it made us feel uncomfortable.
We turned around and started walking back to the hotel. The young man also turned around and followed us. He said that he was poor and needed money to go to college.
We tried to ignore him, but he was persistent, asking for money again and again. 
Finally, we reached the gate of our hotel. The guard prevented that annoying beggar from entering. What a relief it was not to be harassed any longer! All hotels in India where we stayed had tight security, and we always felt safe on the hotel's grounds.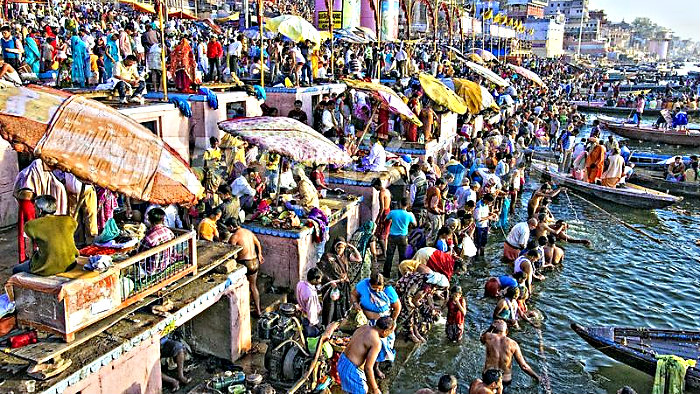 Varanasi is one of the holiest cities in India. Our group stayed at the Radisson hotel. We were lucky to get a two-bedroom suite with king beds, two huge bathrooms, two flat-screen TVs, one per each room.
The view from our windows was a different story. All that we could see were a rusty, unfinished building, a shallow, polluted river with oily stains on the surface, and garbage all around.
After a good look at the "view", we concentrated on exploring the hotel. Our suite was on a concierge floor, where we could have free espresso, cappuccino, Indian tea, and desserts. We felt like VIPs.
The food at this hotel was one of the best we ever had. In the evening, the waiters walked around the restaurant, offering different dishes. It was almost like a buffet, all-you-can-eat, but the waiters served the food right at your table. If you liked something, you could ask for it again. The breakfast buffet was fantastic!
Of course, Varanasi is famous not for the Radisson hotel, but for the Ganga Ghats, where pilgrims come for the religious ceremony, for Hindu temples, Buddhist landmarks and much more. I described our trip to Varanasi in my blog "Life and Death in Varanasi."
***
A few years passed since that group tour to India, but we still vividly remember many episodes from that journey. It is the way we try to live – to have a life full of memorable moments.