We never try any unfamiliar food abroad if we suspect it might not be safe to eat. If you do not want your international travels to be ruined by the upset stomach, it is necessary to know how to eat safely abroad.
Eating in foreign countries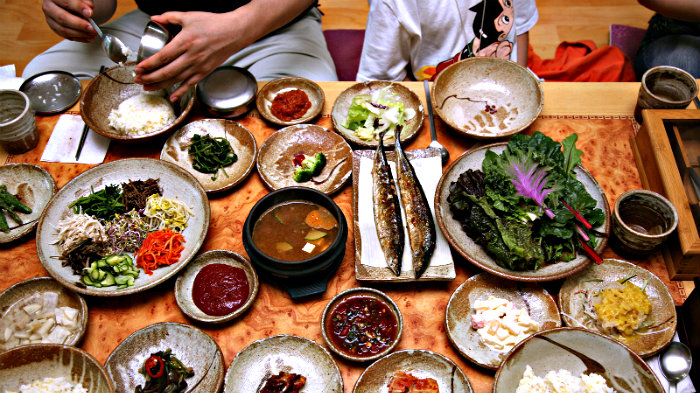 In Europe, the food is usually more expensive, than in other parts of the world, and it is safe. In Asia, food is much cheaper, but you have to exercise caution. When we travel with a tour group, we know that the food is safe at the hotels and at the restaurants where we go to with the tour guides.
In Hyatt (Katmandu, Nepal) we were the only two people from our group enjoying the pomegranate seeds for breakfast. We knew that the 5-star luxury hotel such as Hyatt would not risk its reputation by serving contaminated food to the guests.
We all heard about the fantastic street food in Asia. Even the famous chefs on TV tell us how they ate Pad Thai at the night market in Bangkok or freshly cut Dragon Fruit on the street in Cambodia. Yes, it all sounds good, but we have heard enough horror stories from other travelers who tried exotic local foods on the street or in a small local restaurant.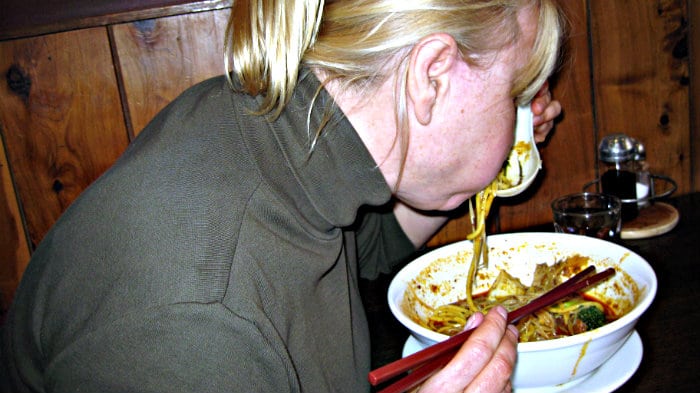 In Cambodia, one family from our group did not touch raw fruits or vegetables at the restaurants our guide took us to. They shared a story of how all three of them got deathly sick during their independent travel in Asia. Where did they eat? At some little food stall on the street.
In all our travels, I suffered from food poisoning only once.  In Beijing, China, we stepped out of our hotel for a quick bite in the restaurant a block away. It was late, we were jet lagged and couldn't think clearly. The next day I got sick while climbing the Great Wall.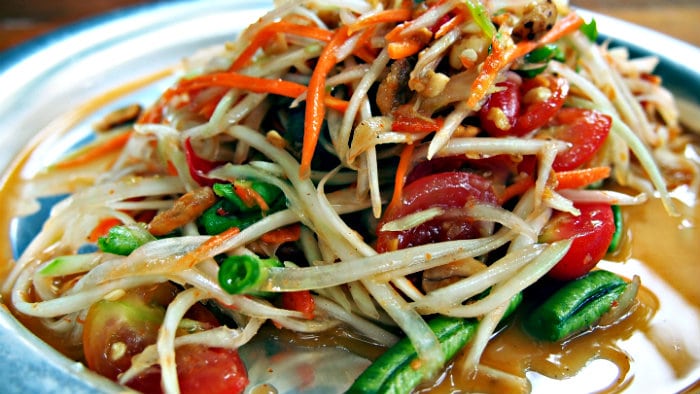 The safest way to eat out is to ask the tour manager or local guide where to eat. In Vietnam, our guide advised us to go to a small restaurant where we ate the best green papaya salad for $2 per person. Of course, we had to drink only bottled water.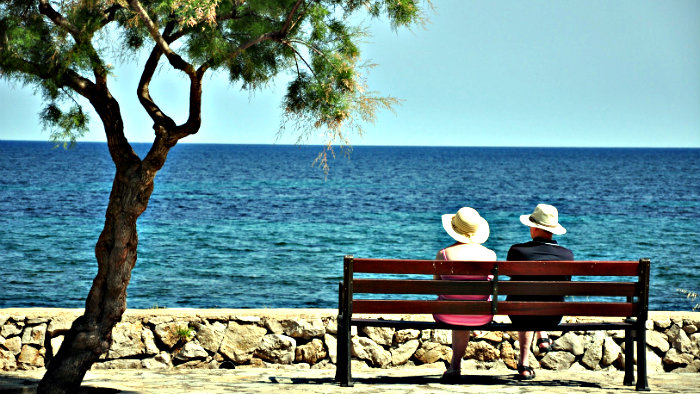 Usually, during the organized tour trips which last 10-14 days you get breakfast every morning, five-seven diners, and a few lunches. For the times when you have to find food on your own, I would suggest stopping at the local supermarkets.
In Valparaiso, Chile, our group was advised to go for a buffet lunch at the local restaurant. Instead of following the "crowd" the two of us went to the nearest supermarket. We bought local delicacies, bottled water, our favorite fruit, cherimoya (custard apple), and went to the waterfront park.
The day was sunny and pleasant, the sea air fresh, the flowers and trees in full bloom. We had a great time, and our bill for all the food was next to nothing (in American dollars). The "restaurant" group was not impressed with the unlimited but mediocre and expensive food.
In order not to gain weight during the trips we eat only one meal per day in the restaurant (not counting the breakfast, of course). This way we do not spend too much time and money on food. Besides, if we have a light snack for lunch, we do not get sleepy in the middle of the day.
In Canakkale, Turkey, instead of going to a restaurant for dinner, we bought roasted sunflower seeds. Sitting on the waterfront boardwalk we enjoyed the favorite snack of Turkish people. However, we did not want to drop the shells on the pavement as the locals did. We dropped ours in the garbage can.
We listened to the sound of waves splashing against the seawall and watched the endless procession of families, kids, dogs, clowns, vendors selling snacks, drinks, balloons. You cannot get such entertainment if you are inside a stuffy restaurant.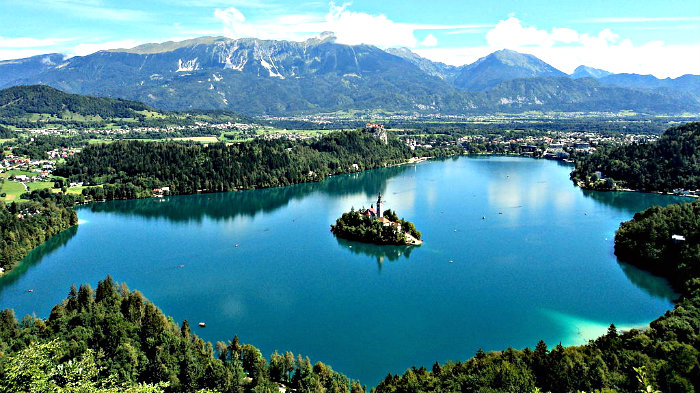 We still remember how upset we were when our group stopped for a brief time at Lake Bled (in Slovenia). The tour guide suggested that everyone will have lunch at the certain restaurant two blocks away from the lakeshore.
We forgot the food we had, but we remember that instead of enjoying this beautiful place, we were stuck in the restaurant, impatiently waiting for food to arrive and then hurriedly gulping it. When finally we were able to leave the restaurant for a walk by the lakeshore, we noticed a woman from our group.
She was sitting on the bench enjoying the view. Her lunch was tuna with crackers, fruit and bottled water. She said that she always brings her tuna pouches from home and eats them with local bread or crackers.
In Italy, we shared a bottle of red wine and fresh bread and cheese.  We sat on a bench in the beautiful park while the rest of our group was eating a big lunch at the restaurant. On this bright spring day, we did not want to sit in a dark restaurant and eat an expensive and heavy meal.
In Barcelona, Spain, it was fun to just go to a farmer's market near Paseo de Colon and buy fresh produce and olives.
As we were driving North from Denmark to Sweden and then from Sweden to Norway, the food was becoming more and more expensive. However, the best and the cheapest meals we ate, were in Norway, the most expensive Scandinavian country.
There, we used our "supermarket hack". We were buying the excellent Norwegian dark bread with sunflower seeds and nuts (for $1 per loaf), fruits, and vegetables which were on sale, yogurt, delicious cheeses, cold cuts, etc. Loaded with delicious food, we chose the picturesque location for the picnic lunch. More often than not, we could find a place with a view of a waterfall or a fjord.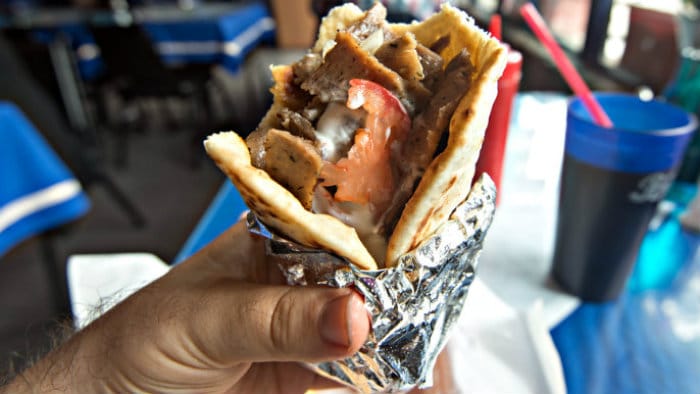 In Athens, Greece, we would buy a gyro or two at a busy gyro stall and enjoy it on a bench at a square filled with tourists and locals.
The only drawback was an occasional beggar who asked to spare him a euro or two. At least the beggars were not persistent at all and would leave us alone once we said no.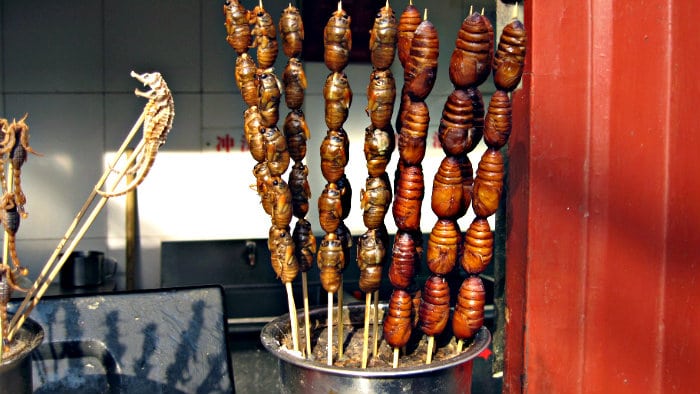 To help our stomachs fight harmful bacteria "foreign bugs" we always start our breakfast with plain yogurt. Then I choose the most exotic items. I can never understand people who ignore fantastic dishes at buffet breakfasts in Asian hotels. Instead, they eat boring food they could get at any diner in the US: Danish, white bread with butter and jam, bacon, sausages, eggs.
Once, I had a funny experience in Shanghai, China. When our group came up for breakfast, I noticed that there were two dining rooms serving buffet breakfast – a big one, where I saw lots of Chinese faces and a small one, which looked like it was prepared just for our group.
When I saw what food would be served to us, foreigners, I was disgusted: they prepared bacon, sausages, white bread, canned fruit, and jams. In the big room, they had all kinds of fresh fruit and vegetables, noodles, and soups. Of course, I did not want to eat "American" food in China.
It was in 2003. At that time, Chinese cities still had lots of bicycles on the streets, and not many people spoke English. I had to use gestures to show the restaurant manager that I might vomit if I will eat "American" food, and I will be happy if I will eat the "Chinese" food. The manager allowed our group to join the "regular" dining room with a large selection of Chinese dishes.
In the small cafeteria high in the Norwegian mountains (still covered by snow in July) I tried their traditional dish rommegrot (Norwegian pudding) which tasted heavenly, but probably had about 2,000 calories per tablespoon. Rommegrot is a porridge which resembles our Cream of Wheat but only in looks.
In Asia, I eat Pho or noodles or salad for breakfast – just like the locals do. When I stayed in the ryokan in Japan, my breakfast included fried fish, dried seaweed, and miso soup. I was in heaven!
In all our travels, no matter how unusual or exotic is the food, we always follow our rules on how to eat safely abroad.